Guest post by Noah Herman, Daemen College '18
On Saturday, April 1, Daemen College hosted AAF Buffalo's annual Portfolio Review. Even though the event fell on April Fool's Day, students gained real, insightful advice from graphic designers, art directors, professors, freelancers, and other types of visual professionals working in Buffalo's advertising community. Those communication students who attended this year created just as much variety as their professional counterparts, with participation coming from Villa Maria, Buffalo State, UB, and Daemen College.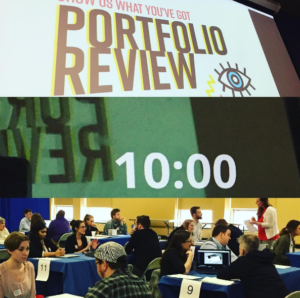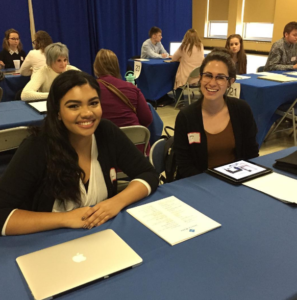 Almost like design speed-dating, students at the review had a timed one-on-one slot with each professional to go over the student's portfolio and provide critiques when necessary. Students who also attended the AAF's Portfolio Seminar, hosted at Daemen College in the fall, would've found the Portfolio Review to be the perfect complement to the previous event. Further cementing the advice given at the seminar, students were able to put to practice much of what they learned without the added stress of a "real-world" job interview scenario.
Some advice that crossed over from the Portfolio Seminar to the Review included:
The importance of walking the reviewer through the process behind your work.
Using the correct method to display your work (physical or digital).
Including a truly concise and refined collection of work in your portfolio.
The importance of including mock-ups that best suit the product you're displaying to give the reviewer a better concept of your work.
Students presented their work from 10 a.m. – 3 p.m. with a brief break for lunch, which provided a unique opportunity to make connections with professionals or other students. At the end of the review, professionals were asked to vote on the most effective portfolios for scholarships available to students continuing their education next fall.
The students that professionals felt were successful in this regard included:
1st Place: Noah Herman, Daemen College
2nd Place: Brooke Murgia, Buffalo State
3rd Place: Travis Springer, Villa Maria College
Honorable Mention: Joseph Petromicca, Daemen College
Congratulations to the scholarship winners and all those who worked hard preparing and presenting. Entering the job market can be a scary process for any industry, let alone such a competitive field. So, a big thank you goes out to the professionals who donated a large portion of their free time to provide useful feedback and advice to make the process a whole lot smoother!
To see Noah's winning portfolio, head over to noahherman.com.