On Saturday, April 7, Villa Maria College hosted the annual 2018 Portfolio Review. As Part II of the AAF Buffalo Portfolio Series, this event focused on putting what students learned from Part I, the Portfolio Seminar, into practice. Art directors, graphic designers, freelancers and other visual communication professionals from all over Buffalo came ready with business cards in tow and advice at the ready. Senior, junior, and sophomore students from Villa Maria College, University at Buffalo, Buffalo State College, Daemen College, and Rochester Institute of Technology were also in attendance and ready for professional feedback and insightful guidance.
Designed like speed networking, the Review consisted of one-on-one interviews with a professional and a student to assess the student's portfolio and provide critiques when needed. The Review allowed for the students to not only gain interview practice, but also learn about how to most effectively talk about their work in the time allotted. Not only is this event beneficial for student portfolios, it is also an excellent networking event for those nearing graduation. Many past attendees have gained connections, internships and even jobs from the Portfolio Review!
Students presented their work from 10 a.m. to 3 p.m. with an intermission for lunch. This allowed for even more networking opportunities for students to connect with professionals after their quick interview. At the end of the review, we asked our professionals to vote on the "best" portfolio in their expert opinion, and who was most deserving of our three scholarships.
Congratulations to these three students, who not only took home professional validation, but also an AAF Buffalo scholarship as well:
1st Place: Francesca Bubb – Villa Maria College
2nd Place: Cassie Chu – Buffalo State College
3rd Place: Emma Roberts – Buffalo State College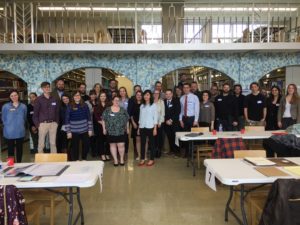 And a special thank you to our professionals who gave up their Saturday morning for us:
Katie Arcara from The Chapel
Peter Arcara from Dpost
April Brown from Delaware North
Darryl Colling from Crowley Webb
Joe Conti from The Revs Agency
Collin Corcoran from Delaware North
David Gram from Say What Group
Nicole Reinard from Crowley Webb
Jamie Ruminski from Delaware North
Zack Schneider from FIFTEEN
Brittney Sikora from White Bike
Megan Sweeney from Gelia
Sarah Walczak from Farm
Amanda Widzinski from Crowley Webb
Jason Yates from Gelia