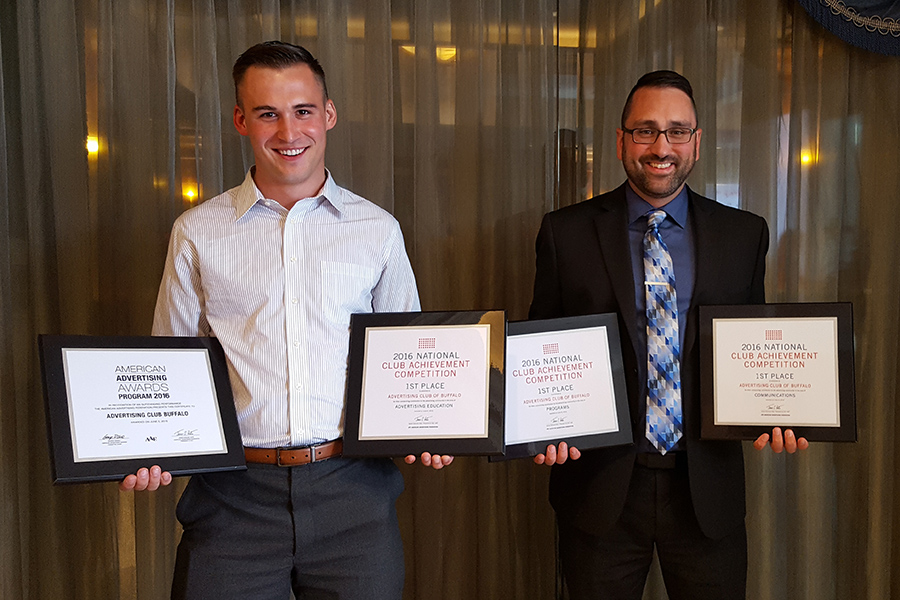 As another Ad Club year winds down, it is a perfect time to reflect on the many successes of 2015-16 and to look ahead to the future.
A better Ad Club
Our focus in the past year was to bring new and exciting events to our members as well as enhancing our successful annual events, this included:
More guest speakers from out of town including Anthony Shop, Anne Esse and Brokaw.
Introduction of member-only Skillshops to help you learn and grow in your career.
Brand Hack, an all-day "hack-a-thon" for our creative professionals and students
Networking trivia nights
Your favorite events, bigger and better: Preview Night, Holiday Bowling Tournament and Uber Bowl
Buffalo Wins National Honors
In June, the AAF honored the winners of the Club Achievement Competition at the "Salute to Achievers Ceremony" at the Disneyland Resort in Anaheim.  This competition is designed to recognize outstanding accomplishments of its affiliated advertising clubs, showcasing the programs and projects its professional member clubs undertake each year. It was established to honor significant contributions to the AAF network of professional advertising clubs and to encourage excellence in areas of club operations that strengthen the AAF's member clubs.
For the first time ever, the Ad Club of Buffalo received awards in the three categories we entered.
As part of AAF Division Two, which includes clubs with 250 to 499 members, we won the following:
Advertising Education – 1st place
Communications – 1st place
Programming – 1st place
American Advertising Awards
What a night it was in March at the 2016 WNY American Advertising Awards show at Statler City, over 420 of the industry's best gathered to celebrate the achievements of the year.  We had a record of more than 500 professional entries and nearly 50 student entries.  We continued celebrate our region's great work with an impressive showing at the district awards level as well as a handful of winners at the national show.
On top of all this awesomeness, we were presented the AAF Incentive Award. This award is given to the top 10 clubs nationally that showed the highest increase in entries to the American Advertising Awards.
Saying goodbye…
The summer is always bittersweet as we say farewell to our departing board members and welcome a new group to help guide the club.
Matt Low served five years on the board, including last year as vice president. Not only did he lend his great creative talents and leadership to everything the club did, but Matt was instrumental in improving our academics committee and overseeing the Don Nichols Scholarship Competition.
Corey Crossman served two years on the board as treasurer. Corey brought incredible passion to everything he did for the club, including ensuring the club's financial success, overseeing the communications committee and leading our efforts in this past year's Club Achievement Awards.
Sarah DiPofi and Christie Witt Berardi both served two years on the board and took on the difficult role as American Advertising Awards chairs not once, but twice. Their hard work paid off with two successful celebrations of our great industry, setting record attendance each year.
The club is in a great place because of these dedicated individuals and we thank them for their contributions.
Newbies
Our executive board welcomes two second-year board members into new roles, Tim Bouchard as vice president and Kyle Rogers as our new treasurer.
We also welcome five new board members that bring a wide range of experience and skill to the board.
Andrew Bevevino – Martin Davison PR
Erin Collins – BlueCross BlueShield of WNY
Erin Haskell – Crowley Webb
Matt LaSota – Outer Harbor Development Corporation
Tess Alberts – EMA
Thank You
All of this work would never be possible without a strong team to run the club. I continue to be impressed more and more each year at the talent that makes up our board of directors and volunteers. They put in countless hours and have fun doing it. I thank each one of you for your continued dedication to making the club a huge success.
What's next?
We are excited about 2016-17 as we take the Ad Club to the next level beginning this August. Join us at The Big Tip-Off on August 25 at Soho Burger Bar to find out more and help support our scholarship fund!
-Scott Bartels, Advertising Club of Buffalo President