AAF ASKS: WHO INSPIRES YOU?
Who are a few artists, writers, designers, or creatives you admire? Who inspires you to do better work?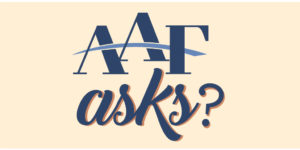 "Good artists copy. Great artists steal."
Paige Meckler
Beyonce inspires me. She may be a celebrity, but she's much more than that. She's fierce, she's confident, she's a feminist, she's bold. She is passionate about what she believes in and inspires me to be the same. Our members should also check out Michael Smart. Michael Smart is a PR pro that helps people in the industry improve their pitching success and enhance their PR writing. He's a genius for us PR folks specializing in media relations. I went to his conference in Chicago. Check it out! 
Andrew Bevevino
Writers – Ned Vizzini, Hunter Thompson, Christopher Moore, Stephen King
Musicians – Father John Misty, Mac DeMarco, King Krule (Archy Marshall), ScHoolboy Q
Comedians – Dave Chapelle, Mike Birbiglia
Greg Pokriki
To name just a few: Donald Glover, Bo Burnham, Frank Ocean, Chance, David Sedaris, Steve Rushin, Tom Verducci. I don't think artists don't have to be in the same discipline to inspire you.
Erin Haskell
I read Fast Company daily – I like the quirky stories they have that merge business, marketing and culture.  
Brittany Klotzbach
I personally have a lot of appreciation for good photography. I don't have any specific photographers in mind when I say that, but there's something special about coming across a breathtaking photo.
April Brown
For designers, and really any creative-minded human, inspiration can come from anywhere. I know that sounds suuuper artsy fartsy, but really–at the most random times throughout my day I'm inspired–the color that someone chose to paint the window trim on their house, the pattern on some crusty vintage wallpaper, the way a fancy meal is plated, the shapes that are made on the ground when the sun shines through a tree, and on and on and on…
But to give you a more tactile answer, designers who inspire me:
James Victore: Radical and inspiring talks, his mantra is "make work that matters, have an opinion, and love something other than yourself" I highly suggest giving a listen to his "Burning Questions" series on YouTube.

Lauren Hom: Playful letter / illustrator who isn't afraid to share her process and technical progression. Check out her series #HOMwork and sign up for it through the link on her instagram!

Tad Carpenter: Clever yet strategic mid-century modern style designer / illustrator. If nothing else, given him a follow on Twitter and prepare to be enlightened, and definitely check out the work on his website. He'll be coming to a Big Ditch Brewery near you this May! Score.
Dan Nesselbush
Tough question and if I sit down and think about it, I don't think I really have any specific person that serves as an inspiration.
There is a lot of hero worship in the marketing industry – I'm sure you all know some of the names I'm thinking of – and that whole idea in a creative industry feels a little dirty to me.
I guess with that response my inspiration is probably the first old man to ever yell "Get off my lawn!" to a bunch of kids.