She's known to throw a good party with her involvement in The Big Tip-Off, Holiday Bowling Tournament, and the Buffalo edition of the American Advertising Awards. Get to know Brittany Klotzbach in this Board Member Spotlight.
Let's hear about your day job.
Where do you work, and what does your role entail?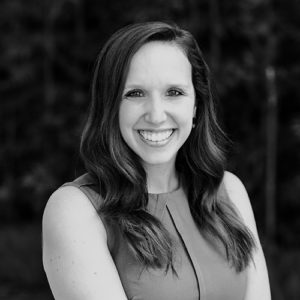 I work at Gelia as the Senior Creative Project Manager. Essentially, I'm the liaison between the creative and account service departments and my job is to manage and monitor projects from start to finish. There is a lot of communication within my role.
What drove you to get into the advertising/marketing biz?
When I was in college as a Communication major, I took an internship at The Martin Group. I quickly found an appreciation for the fast-pace creative work environment. I was lucky enough to be offered a position there during my senior year of college, and when I graduated I became the full-time Traffic Manager.
What do you like best about what you do?
I get to see projects from start to finish, as well as all the changes in between. It's rewarding when projects are complete and feeling like I was a part of the team that accomplished it, but I also really have such an appreciation for the talented people I get to work with every day. My role is one of problem-solving, and that typically allows me to be pretty active with projects to always make sure that everything is running as smoothly as possible.
What do you find challenging in our industry?
Our industry is very client-driven and you always want to make your client happy. It can be challenging to always be accommodating, as sometimes projects are needed in a quick turnaround. I have found that with positive client relationships and strong teams within the agency, even the most challenging circumstances are manageable.
Describe a recent success.
Although I'm a project manager on most projects I touch at Gelia, I'm also an account executive on a couple of our pro bono projects throughout the year. The two projects that I managed that are dear to my heart won a total of three ADDY awards. I was extremely proud to be part of the team and to get recognition for the work we did for nonprofits that have my full support.
What advice do you have for emerging talent in your field?
Try to be as involved as possible; stay patient during the challenging times; celebrate with your team through the successful times; and remember at the end of the day, it is advertising.
Tell us about organizations/charities you're passionate about.
We have two pro bono clients I work closely with at Gelia: Food Bank of WNY and Juvenile Diabetes Research Foundation. I was passionate about Food Bank since I was little, as it's also a passion for my father who was on the board of directors there for several years. Being involved in projects for them is special to me because I know the good they do for our community. I didn't know much about JDRF before working at Gelia, but the local chapter has taught me so much about the organization, and it's something I can see myself supporting for many years to come. Each year it seems JDRF gets closer to finding a cure, and you know that the support and money they receive is really making a huge difference to those it affects.
(Unrelated to advertising): I'm also very passionate about the Kevin Guest House, a Buffalo non-profit that provides a comfortable place to stay for families or family members receiving treatments at our local hospitals. It is right on the growing medical campus, and it continues to expand. I learned about this organization a year ago through an organization I belong to, Junior League of Buffalo, who is a big supporter of the cause.
When you're not working, how do you spend your free time (hobbies, side projects, etc.)?
I play tennis recreationally (sometimes competitively). I enjoy working out, but balance that with a healthy amount of TV watching (specifically, Bravo). I'm also involved with Junior League of Buffalo which allows for hands-on volunteer projects that I'm very passionate about and thrilled to be involved with. Lastly, I'm mildly obsessed with my nieces and spend a lot of time with my family.
What's one thing not many people know about you?
I went to states three years in a row for tennis in high school. This is one of my more proud accomplishments/achievements in my life. I also went to St. John Fisher where I played tennis for my freshman year of college. I retreated back to Buffalo because after one year away, I realized that Buffalo will always have my heart.
What's your guilty pleasure?
Moe's and Bravo. (Ideally eating Moe's while watching Bravo.)
Duff's or Anchor Bar?
Anchor Bar!
Now, let's talk a little about AAF Buffalo.
Why did you join AAF Buffalo?
I was looking for a way to be more involved within the ad community, and I thought it would be a great way to network and meet new peers that I might not otherwise get a chance to work with. I also see the value the club brings, and I wanted to be a representative for Gelia to continue the AAF Buffalo presence at my company.
What role(s) do you play on the AAF Buffalo board?
Much of what I do for the board is event-based since my background isn't in copywriting or design. I've enjoyed my involvement with the ADDYs and events like the Big Tip-Off and the annual bowling tournament.
What's your favorite AAF Buffalo event?
My favorite event is The Big Tip-Off. The venue being at Soho Burger Bar has made it really nice and fun in the summer, and it's a great event to have a lot of active industry people together mingling in a casual atmosphere. And the best part is that it's all for a good cause raising money for student scholarships.
What do you enjoy most about AAF Buffalo?
I enjoy the opportunities to meet and work with new people I might not otherwise know. I also think the Skillshops and Speaker Series provide a lot of valuable information about our industry, and I've personally found value in attending the various events hosted by AAF Buffalo.
How has AAF Buffalo impacted you professionally?
It's made me more of a leader within my company because people have come to me as a sort of "go to" for information. It's also introduced me to people that I've never gotten the opportunity to work with but have heard really great things about professionally. It makes me feel really connected within our advertising community, and I'm grateful for the experience.
What's one pro tip you can share with our membership that will make their lives better or easier?
I'm not a shy person, but I think the thought of "networking" makes people anxious or nervous. After attending a few networking-specific events we have held, I have to say, they're actually some of my favorite events. If for nothing else, you get to meet other industry professionals and peers within the Buffalo community that have the same interests as you. It's worth putting yourself out there.
Why would you encourage others to join AAF Buffalo?
AAF Buffalo is geared toward really uniting our advertising community. When I attend the events, I notice that many of our members are the people in the industry that are putting themselves out there and making an effort to learn more. We spend so much of our week at work; any attempt at trying to better yourself professionally is worth it, and AAF Buffalo provides you with the tools to do just that.
Keep up with Brittany on Instagram @brittanyklotzbach.