She had a recurring role as "Jillian the Graphic Designer" in the series Casual Fridays and still found the time to head up our programming committee. Get to know Jillian Minderler in this Board Member Spotlight.
Let's hear about your day job.
Where do you work, and what does your role entail?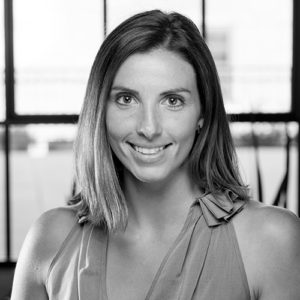 I have been at Quinlan Company for over three years now as a graphic designer. Being at a small company, I'm lucky to be able to work on almost every project, from brainstorm to execution and everything in between — whether it be a simple banner ad or a full blown campaign. I'm part of an awesome team.
What drove you to get into the advertising/marketing biz?
It was senior year in high school. I took an advertising and design class and fell in love. The thought of being an architect went out the door and my mind was set on graphic design. It was love at first sight.
What do you like best about what you do?
I love that I go to work loving my job. Every day I get to be creative. One minute I am sketching, the next I am staging props for a photo shoot, and by the end of the day I'm at my computer bringing things to life. It's hard to pick out a "best."
What trends or insights are you finding in your field/market?
That'a a tough question because it's constantly changing! It's really important to keep up on what is trending, changing or evolving in the industry.
What are three things you use at work every day?
That's easy. Coffee, my Moleskine and my Mac. If there was a fourth it would be coffee.
What was your first job?
My first "real" job was managing a restaurant on the Upper West Side in Manhattan when I was in college. My first "career" job was at Paper + Cup Studio in Brooklyn, NY, as a graphic designer. It is a stationary and paper company. I was designing wedding invitations, birthday invites and baby announcements one day and then binding books and foil stamping them the next. It was such a fun job!
When you're not working, how do you spend your free time (hobbies, side projects, etc.)?
My husband, pup and I love to hike. We are planning to start the 46ers next summer.
What's your favorite app or social media outlet? Why?
I have to say Instagram. I love photography and follow some awesome people and companies from all over the world. It's not just a social platform but a creative outlet for people.
What's the last thing you read?
I'm currently reading "The Little Book of Hygge: Danish Secrets to Happy Living." It's about finding joy in your atmosphere and experiences rather than "things." Aside from being a great read, the book has the cutest illustrations on every page!
What's your favorite hidden gem in WNY?
Lockport trails. It's our little sanctuary. My husband and I love going with our dog. It's never very busy and you hardly ever run into anyone because of all the different paths. It doesn't feel like something that would be in Lockport.
Duff's or Anchor Bar?
Duff's? I don't eat chicken wings, so I'm not sure if I'm the right person to ask.
Now, let's talk a little about AAF Buffalo.
Why did you join AAF Buffalo?
After moving back to Buffalo from NYC I felt out of the loop. I didn't know anyone other than my coworkers in the industry and had no connections. I joined as a member when my creative director introduced the organization to me, went to as many events as I could and then was asked to join the board of directors. It was the best decision I made.
What role(s) do you play on the AAF Buffalo board?
I'm the programming committee chairman, which means I organize committee meetings and make sure that we are on task for planning events and having everything organized (with lots of help from everyone else!). I am also one of the graphic designers of the group to contribute artwork for social media and our website. It's like a breath of fresh air, designing outside of client projects.
What has been your proudest moment in your role on the board?
Being a part of the rebrand from Advertising Club of Buffalo to AAF Buffalo. This was such a big change for the club and a step in a positive direction. With the name change, our local chapter now has an immediate connection to the national organization. Before, members may not have understood they were a part of something so much bigger.
What's your favorite AAF Buffalo event?
Preview Night. I love looking at all of the work that agencies in the area have worked on throughout the year. It's really inspiring and the student work that is displayed gets more impressive every year.
What do you enjoy most about AAF Buffalo?
The people. It's so important to connect with others in your industry and not just those that you see at your workplace every day. I have met some awesome humans through AAF and have built connections that I would not have if it wasn't for the organization.
Why would you encourage others to join AAF Buffalo?
It's such a great opportunity for both professionals and students. There is a variety of different events where you can learn, mingle, become inspired and grow with the advertising community in Buffalo. There are only positive advances you get out of it, so why wouldn't you join!
Keep up with Jillian on Twitter at @jmminderler or on Instagram @jmminderler.