You might recognize him by his bright yellow car, or know him as one of those crazy cyclists that wear spandex. Or, perhaps you know him for his killer work at the agency he co-founded, LUMINUS. But when he's not biking 40+ miles or meeting with clients, Tim Bouchard serves as AAF Buffalo's vice president. Read on to see what makes our second-in-command really tick.
Let's hear about your day job.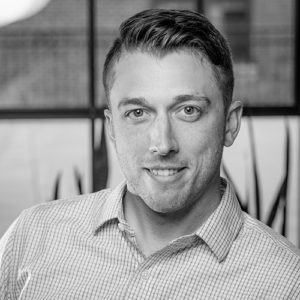 Where do you work, and what does your role entail?
I'm a managing partner at LUMINUS, which means I wear many hats. I help with business development, client communication, project management, internal reviews, and all the boring business stuff. Being that my roots are in digital media, I still find time to keep up with web design trends and contribute to the programming processes here at the studio.
What trends or insights are you finding in your field/market?
LUMINUS's origins are in the success and quality of our web and digital services. The traditional advertising community has been slowly integrating more focus on digital over the last 10 years, while we have been simultaneously growing into a full-service agency offering traditional services. It's fun to see both sides playing in the same arenas.
What advice do you have to give to emerging talent in your field?
For those interested in the digital realm, stay forward thinking. Creative processes and digital advertising change rapidly as new technology and social markets emerge. Always be learning.
Tell us about organizations/charities that you're passionate about.
I'm involved in and support local cycling, whether its races or organizations like GoBike Buffalo.
What are three things you use at work every day?
My Mac Pro, Slack, and Quick Wit
What was your first job?
My first professional gig was working for a little company called Student Voice when it was just 10 people. Some of you may know it now as Campus Labs.
Describe yourself in one word.
Determined.
What's your favorite hidden gem in WNY?
"That Taco Place" in Batavia – or "Taco Joe's," as us regulars call it.
Now, let's talk a little about AAF Buffalo.
Why did you join AAF Buffalo?
As a young business owner, I saw an opportunity to involve my company from an exposure standpoint and a resource for my team to continue professional development. As a single company, we cannot pull together the classes, speakers, and networking events that a group like AAF Buffalo can.
What has been your proudest moment in your role on the AAF board?
Creating the BrandHack event, which brings students and professionals together to competitively create a media campaign for a local non-profit. I wanted to bring an idea from my tech background into the creative space. I also really wanted an event that tied students directly with professionals.
How has AAF Buffalo impacted you professionally?
Being on my first board has expanded my management and communication skills. It's introduced me to contacts internally within AAF as well as local industry leaders that I can share conversations with now at a common level.
What differentiates AAF Buffalo from other groups?
We are fortunate to work in an imaginative and enjoyable field. We create every day. AAF Buffalo allows us to get together and share that feeling with each other and constantly push each other to be even better.
Why would you encourage others to join AAF Buffalo?
Buffalo is a small town that still has somewhat limited resources. This organization is in place to help us support each other. You're never done learning. We offer accessible and approachable ways to support local students –  to open doors and help them become the best future professionals they can be. This is an all-inclusive organization.
Keep up with Tim on Twitter at @timbouchard, or Instagram at downincircles.