Board Member since 2016
Occupation: Graphic Designer at Delaware North
Twitter: @aaprilbee
Instagram: @aaprilbee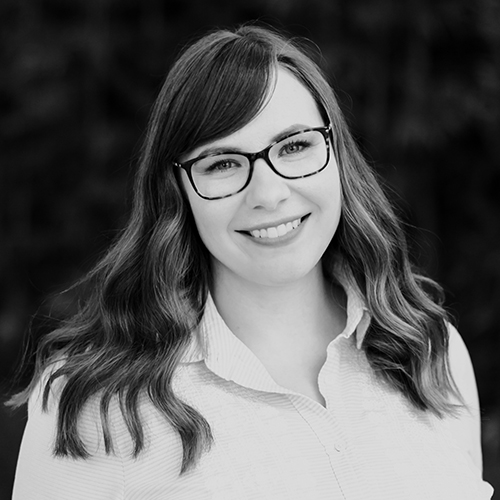 Where do you work, and what does your role entail?
I'm a graphic designer at Delaware North. I work for their Parks & Resorts subsidiary, designing marketing materials for 6 different properties around the country. Some are national parks such as the Grand Canyon and Sequoia, and some are resorts such as Sea Crest Beach Hotel and Honey Creek Resort. I collaborate with my team of marketing managers and develop graphics for on-site needs as well as promotional campaigns (signage, emails, web elements, social graphics, catalogs, brochures, etc.). I've only been in this role for just about four months but am loving every second!
What drove you to get into the advertising/marketing biz?
Growing up, my favorite class was always Art. I loved anything and everything creative, and as I got older I learned more and more about creative problem solving and the conceptual side of art. I decided to go to UB for Fine Art, without really knowing where I wanted to end up. I was also working at Delaware Camera at the time and met a photographer from an ad agency who needed an assistant for a couple of client photo shoots. The agency he was with at the time ended up needing my help all summer. I only knew the basics of Photoshop at this point, but it was enough. We spent all summer shooting caps and apparel, silo'ing and saving them out for multiple uses. This was how I learned what an ad agency was and what they did, and I fell in love. I desperately wanted to work with the Designers and Art Directors there, but still had a lot to learn before starting a design internship. That fall, I got into the Communication Design program at UB, learned anything and everything I could get my hands on, and interned as a designer at the agency the following summer.
What do you like best about what you do?
I like the strategy involved with what I do. I love to brainstorm different ways to solve the same problem. I love thinking out of the box and using creative solutions to deliver results to the client.
What advice do you have for emerging talent in your field?
AAF Buffalo brought Anne Esse here in 2016 to give a talk about how to evolve in your career, and she said a lot of things that I think students would benefit from hearing. She talked about "leaning into the discomfort"—instead of saying, "look at what I don't have" say, "look at what I could do with that…" Don't be intimidated; be curious. Get beyond what's in the way so you can thrive. I think all of this is critical at the beginning of your career because you need to build up a momentum. You need to put fear aside and meet new people, show off your skills and start getting paid to do whatever it is you're passionate about.
Tell us about organizations/charities you're passionate about.
The American Cancer Society – I photograph their "Making Strides Against Breast Cancer" kick-off breakfast and 5k every year. Each event is full of so much heartfelt support, hope, respect and inspiration. I love being able to contribute to finishing the fight against breast cancer.
What are three things you use at work every day?
MacBook Pro. Sketchbook. Brain.
What was your first job?
My very first job was being a "crew member" at Cold Stone Creamery! Scoopin' ice cream and singin' for tips. It was so much fun, and I ate so. much. ice. cream.
When you're not working, how do you spend your free time (hobbies, side projects, etc.)?
My husband and I have a canoe that we love to take out whenever possible. We load it up with our dog and explore different small lakes all over WNY.
What's your guilty pleasure?
Garbage television! Snooki & JWow, Keeping Up With the Kardashians, The Bachelor…all of it! The really, really bad, bad, awful stuff that melts your brain.
Describe yourself in one word.
Effervescent.
What's your favorite restaurant?
Kuni's.
Duff's or Anchor Bar?
Gabriel's Gate
Now, let's talk a little about AAF Buffalo.
Why did you join AAF Buffalo?
To get involved with the advertising industry outside of the agency I work for. To learn, to grow, to meet new people and contribute to the club's mission.
What role(s) do you play on the AAF Buffalo board?
I've been a co-chair for the ADDY awards 2 years in a row and I'm also on the Academics and Membership committees.
What has been your proudest moment in your role on the board?
Seeing the ADDYs come together always makes me feel like such a proud momma, especially the year FARM did the creative because of how involved I was with every little detail.
What's your favorite AAF Buffalo event?
Aside from the ADDYs, I really love the networking trivia events!
What do you enjoy most about AAF Buffalo?
Connecting people and helping them learn new things. I especially love doing this for students. To be a helping hand at the beginning of someone's career is super fulfilling to me.
How has AAF Buffalo impacted you professionally?
I've grown a lot since being elected to the AAF Buffalo board of directors. I've developed my leadership skills, grown a ton of public speaking courage and have met a lot of different professionals from around the WNY advertising community. I've also had the opportunity to take on new challenges that I wouldn't typically come across in my day to day. The ADDYs being one of them. I also love the promotional creative work I get to do for the club.
Why would you encourage others to join AAF Buffalo?
You'll meet new people and learn new things that will influence your career. Whether you want to grow in your current role or start a completely new career path in the advertising world, AAF Buffalo has a lot to offer to its members. You'll get out of it what you put into it, and the potential for making stuff happen is my favorite part.