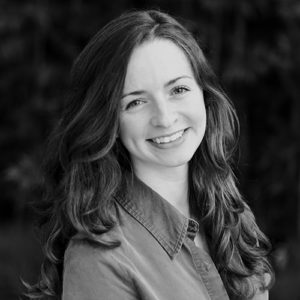 Name: Grace de Rosa
Role/years with AAF Buffalo: A year and a half
Occupation: Graphic Design
Instagram handle: greats_de_rosa
Where do you work, and what does your role entail?
I work for Telesco Creative Group as their graphic designer. My role can change from day to day – concepting, design, proofreading, production, etc. It varies everyday – I can never get bored. Every day I get to add more skills to my arsenal and grow as a professional.
What drove you to get into the advertising/marketing biz?
I probably began where most designers began, as an art kid. In college, I took an Advertising Design class in my junior year and I was sold from then on. The challenges and thought, accompanied by powerful design, attracted me to advertising.
What do you like best about what you do?
My favorite aspect of advertising is seeing our designs out in Buffalo. Most of the day, I am at a computer and just see my finished design on my screen. To see it out in the environment is super cool.
What advice do you have for emerging talent in your field?
For designers – keep creating. It can be difficult after a long day to even look at another computer screen, but having something of your own that you can work on at your own speed and ability will keep you sane. Advertising can be fast-paced, stressful and even irritating when clients don't agree with your design decisions. Creating something by your own rules and just for fun is just that – fun.
What are three things you use at work every day?
Felt tip pen – I have one in every location in my life (work, car, bags, shoes…)
Trello – and on the sixth day, God created Trello. But seriously, it organizes projects and keeps comments/production notes/billing/sanity all in one place.
Paper – I have several sketchbooks and notepads but it seems like I like to sketch on whatever available paper is around just to get the idea out in case I lose it…I think I learned that from Greg Meadows.
What was your first job?
My first real job was at Tops all throughout college. I don't miss working in customer service, but it did teach my how to be patient, how to handle "difficult" people, and how to be efficient.
When you're not working, how do you spend your free time (hobbies, side projects, etc.)?
I own a ballet studio with my sister where we teach adult ballet and Pilates classes. I am also connected to my original ballet studio and perform professionally with them. My husband and I also own a photography studio and regularly shoot engagements, weddings etc. Outside of that, I love to spend time with my sarcastic husband, explore the outdoors and snuggle with our two overweight cats.
What's one thing not many people know about you?
I think the fact that I dance ballet professionally is always surprising to people.
What's your guilty pleasure?
I like to watch really terrible sci-fi movies with good pals. I am not proud of it, yet I kind of am.
What's your favorite app or social media outlet? Why?
That would have to be Instagram, but I think that's just a designer thing being that we're visual thinkers. Cameras on phones are now almost better than most DSLRs and Instagram allows for quality imagery. I could scroll the day away.
What's the last thing you read?
I just finished dog-earring a book called Young House Love. It's written by a married couple who share over 200 DIY projects for your first home. They're super creative and thrifty, and I have in mind to put a few into practice in my tiny apartment.
What's your favorite hidden gem in WNY?
That would have to be my hometown – Youngstown. It's nestled 30 miles north of Buffalo on the Niagara River and Lake Ontario. It's a little town on the lake, and it's beauty is unparalleled to any I have seen in WNY to date.
Duff's or Anchor Bar?
I might have to say neither – my dad has been making kick-ass wings at his house since I can remember and I've never had one as good. So I guess my answer is Denny Gruarin's.
Why did you join AAF Buffalo?
Every success/opportunity/internship/award I received in college was directly linked to AAF Buffalo. Not only did I want to stay connected as a now-professional, but I wanted to join to share with students the endless benefits AAF has to offer.
What role(s) do you play on the AAF Buffalo board?
My main role is on the Academics committee. As a recent college student, I felt my skills best suited Education. I am also on the Communications and Membership committees, aiding with graphic design needs.
What has been your proudest moment in your role on the board?
I think my proudest has been on the academic committee. We have had some solid new ideas put into practice for students in this upcoming year, and I am really excited for students to utilize us for their professional future. I also loved running portfolio review – an event that greatly benefitted me when I was a student. It's fun to push students to live up to their potential, and watch as they graduate and get their first design job.
What's your favorite AAF Buffalo event?
Preview Night, it's just so awesome to see everyone's best work. I'm a tactile person, so being able to lift up work (gently) and see it in person is really nice.
What do you enjoy most about AAF Buffalo?
All the people I have met.
How has AAF Buffalo impacted you professionally?
As a student, AAF Buffalo opened all the doors for me. It led to both my internships at Quinlan and Block Club. It led to my national ADDY award in my senior year. It led to my current, awesome job at Telesco Creative Group. Only two years into the industry, AAF Buffalo has already helped me to begin my professional career.
Why would you encourage others to join AAF Buffalo?
It's so beneficial. AAF is designed for you – we're a resource for you! There is no reason not to join. Unless you really dislike winning awards, seeing professional speakers and beer. And no one dislikes beer.