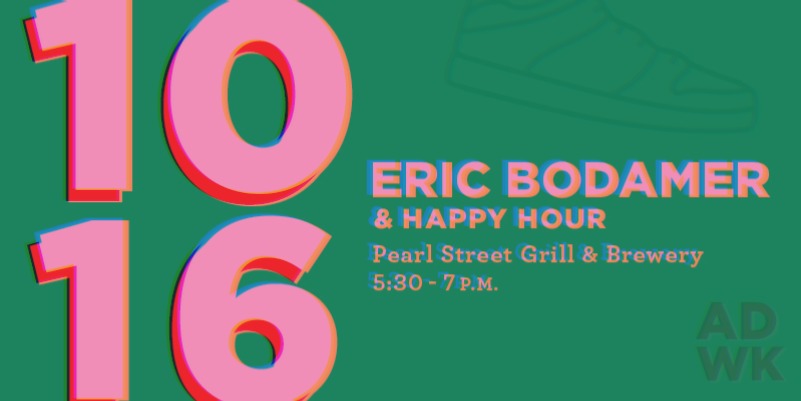 Join us for a happy hour at Pearl Street featuring Eric Bodamer!
Join veteran sports designer Eric Bodamer, Sr. Designer for Adidas Hockey, as he discusses the creative process behind designing uniforms for the NHL as well as a look into the branding of the Vegas Golden Knights. A Q&A will follow the presentation along with jerseys to review.
Eric is the Sr. Uniform Designer for Adidas Hockey and held the same position previously with Reebok Hockey. He has 25+ years of experience in sports branding, graphic design and apparel design working as both an in-house creative for brands such as Nike and Target and as an independent designer. Most recently Eric has been integral in the development of the innovative Adizero hockey uniform as well the creative direction for NHL uniforms and identity for the Vegas Golden Knights. A native of Buffalo, NY, Eric has been a self-professed sports logo and uniform nerd since he was a kid, drawing Super Bowl posters and doodling logos on his school notebooks. Upon graduating from Pratt Institute in 1992 with a B.F.A. in Communication Design, he landed at New Era Cap where he realized he could turn his passion into a career. A year later he would and himself at Nike as lead designer for NHL and IIHF, where he designed 3rd jerseys for the San Jose Sharks and Anaheim Mighty Ducks as well as the uniforms for 1998 Nagano Olympic hockey tournament. During his tenure at Nike, Eric was also a member of the design team that created iconic branding for the Denver Broncos and Oregon Ducks. In addition to being a rabid hockey fan, Eric is also a collector with over 300 hockey jerseys, both game-worn and authentic, in his collection. He enjoys mentoring designers and helping them to and their path through their passion as he did.