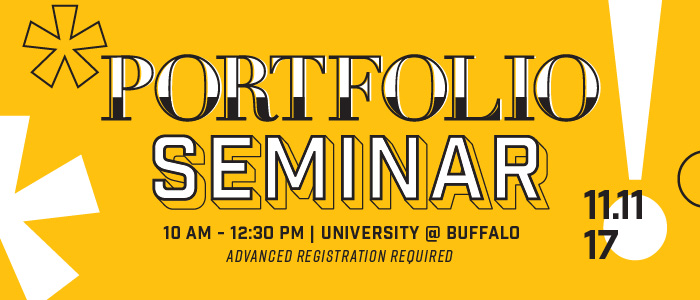 Join us for a rousing discussion of what the experts are really looking for from an entry-level designer, intern, or freelancer. Get the inside perspective from professionals to be prepared for your next interview. You'll even get the chance to see a winning student portfolio from our 2017 Portfolio Review!
Our panel includes:
Jason Yates, Associate Creative Director at Gelia
Shasti O'Leary Soudant, Fine Artist, Graphic Designer, Photographer & Writer at SOS Creative LLC / Visiting Professor at UB
Brian Grunert, Owner at White Bicycle
Noah Herman, 2017 Student Portfolio Review Winner
With all that, you're sure to leave with more confidence to land your first gig in the design business.
Advanced registration required: FREE for AAF Buffalo members, $15 non-members (why aren't you a student member when it's only $25?!?!)
I've never been to UB, where is the seminar?
We're meeting in the Center for the Arts in room 144. The best place to park is in either one of the Slee lots.
What should I wear?
Business casual is perfect. Make your professors proud and dress for success.
Should I bring my portfolio?
Nope. This is the seminar, so come prepared to absorb useful information and take notes. Our Portfolio Review will be in April 2018—stay tuned for that date!
Doors will open at 9:30 a.m. to begin check-in. Donuts and coffee will arrive then, too! Announcements and panelists will begin promptly at 10 a.m.
What if I have other questions?
Please contact April Brown aprilchmurzynski@gmail.com with any questions.
See you there!