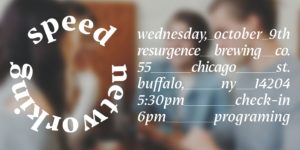 Networking — love it or hate it, we all gotta do it. That's why we're ditching the awkward introduction and doubling your contact list in a single night. Whether you're looking to expand your freelancer list, find some new talent for your team, or get your name out there in the advertising community, Speed Networking is here to help you conquer that 2019 "professional growth" goal you've been neglecting.
How It Works:
Register as a freelancer or company/agency rep
Load up on business cards and practice your personal elevator pitch
Sign in at the door on October 9 and grab a drink before we start
Meet your next go-to freelancer or your new favorite client
Join us for Speed Networking on Wednesday, October 9 to meet your new favorite creative partner.