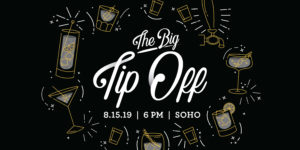 Join AAF Buffalo for our annual celebrity guest bartending event: The Big Tip-Off on Thursday, August 15, 2019 at Soho.
Several of Western New York's marketing and advertising VIPs will be slinging drinks in a fierce competition to earn big tips for a good cause. The guest bartender earning the most tips will win eternal bragging rights for their agency and a shiny trophy to show off. Plus, all tip money will go to AAF Buffalo's scholarship fund, which gives thousands in scholarship money to WNY college students.
Participating bartenders:
Tom Burtless (Mr. Smith)
Joe Russell (Crowley Webb)
Christopher D'Amato and Molly Christman (Block Club)
Allie Friedman (mower)
Adam Bauer (FARM)
Marilynn Millitello (martin.)
Jess Kobis (Luminus)
Shannon Silva (dpost)
Mike Christensen (FIFTEEN)
Todd Harmon (Quinlan)
Grab an early bird ticket by 8/8 for just $20 to avoid a crippling case of FOMO (or $25 presale / $30 at the door). This event is open to anyone 21+, with tickets getting you appetizers and open bar from 6-9 p.m. Round up some friends and bring extra cash to support your favorite bartender!
Endless sips and generous tips for the kids! Purchase your ticket today and make your parents proud.