On September 28, 2019, AAF Buffalo hosted its fall agency tour. Nearly 25 college students joined us as we strolled up Main Street visiting some of the top advertising agencies in the heart of downtown Buffalo.
Students learned about how agency departments work together to create high-impact campaigns, agency processes, and they picked the brains of some of Buffalo's top talent. Not to mention, the weather couldn't be better. 
The first stop was Crowley Webb led by Matt Lowe. Matt gave students a tour of Crowley's newly renovated office space, a walk-through of their departments, and provided students with insight on getting started in the advertising industry. 
From Crowley Webb, this group of students made the trip across Main Street to Luminus. Tim Bouchard, former AAF Buffalo President, gave students a tour of the Luminus office. This was followed by an overview of the company's history, their process for working with clients, and ended with showcasing a recent multifaceted campaign.
After Luminus came Mower. Sarah Neundorfer, Creative Director at Mower, led students on a tour through their beautiful office on the 13th floor with some great views of downtown Buffalo. Sarah provided insight into how their agency works with clients and between multiple Mower offices. Students asked questions on various aspects of advertising.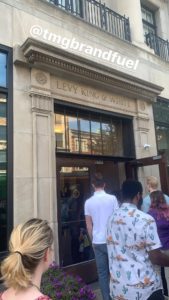 Afterwards, students made their way to The Martin Group. This tour, led by Caitlin Higman, allowed students to see the various areas of Martin's historic office building. As students ventured through three floors of historic greatness, they were able to see how different departments in their agency worked together to complete client work. 
Then, the short walk was made to dPost. Andy Donovan and Shannon Silva took students through dPost and dStudio. While viewing dPost, students had the chance to see the final touches being added to a 3D video for a client. In dStudio, students had the chance to see what a professional video production is made of and how various set pieces can be created within their space. 
The tour concluded at Block Club, which is just a stone's throw away from dPost. Brian, co-founder of Block Club, talked about how the agency and Oxford Pennant were started and a bit of their journey to where they are today. Students toured toured through both offices and it ended with some Q&A at the Oxford Pennant storefront.  
The students were happy to participate in this event. They gained a lot of knowledge (and connections) from within the agencies and some even had the opportunity to turn in some resumes for future opportunities!