This year's Brand Hack event featured a local non-profit looking for a new logo, a new color palette, and potentially a new letterhead. The Coalition of Adoption and Foster Family Agencies (CAFFA) is a non-profit organization that supports foster and adoptive families in Western New York. CAFFA collaborates with agencies and local social services departments that provide foster care and adoption services in the eight counties of WNY.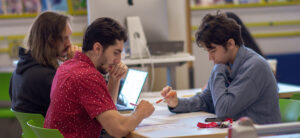 Five teams of students from all over Western New York were tasked with creating these deliverables. The event took place at UB's Center for the Arts. Leading the teams were seasoned professionals from the area, including designers from Mower, Crowley Webb, FARM, FIFTEEN, and The Arc Erie County.
Teams had three hours to organize and create their ideas before pitching them to our representatives from CAFFA. Time was broken up into introductions, analysis, sketching (no computers allowed), rendering, and developing their final pitch decks.
Each team beat the clock and produced some well-executed, unique work along the way. Ultimately, the representatives at CAFFA were blown away by the thoughtful design of each group.
"We were hoping to redefine ourselves and redefine our mission," said CAFFA representative Mary Ann LoPiccolo. "Everything you all did will help push us in that direction. We can tell you all worked really hard."
The winners included FARM Graphic Designer Katie Steckstor and students Jack Qu and Mia Mahar. Congrats to all the students and captains for producing another great event!