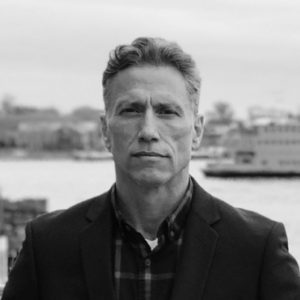 What do you get when you combine a Buffalo lunch pail work ethic with global advertising aspirations? It's hard to imagine it looking like anything other than Rob Baiocco. 
Born and raised right here in WNY, Rob returned to his roots last Tuesday night to speak to the Buffalo advertising community on why what we do is unlike any other profession. Plus, he shared just how cool some industry experiences of his have been. 
A life-long love affair with advertising
Throughout his hour-long conversation that ended with a lengthy Q&A session, Rob presented his top 12 reasons he can't get enough of advertising, ranging from the luxurious – perks of traveling around the globe to shoot for hundreds of clients, to the practical – clients will pay you to do this shit.
He showed dozens of work samples, all he was majorly involved in, including Six Flags, Captain Morgan and, in true Buffalo fashion, Crown Royal. Many of the pieces were from several years and even a decade ago, and still garnered laughs from the audience.
Once (or twice) in a lifetime
More than three decades in an industry leads to some pretty incredible opportunities, and Rob isn't short on them. He weaved his way in detailing his 20+ years at global phenom-agency, Grey, as well as his last 6 owning his own, The BAM Connection, in Dumbo Brooklyn. 
In his time at both, Rob was fortunate enough to work on not one, but two, Super Bowl spots. The first coming at Grey for client E*Trade, which showcased the infamous talking baby brand icon. The second, just this year, was for client [yellow tail] and helped to strengthen their Tastes Like Happy campaign. 
Special thanks to Rob for making the time to speak to the full house at Big Ditch, and for never forgetting his Buffalo blood as he's enjoyed massive success over the last 30 years!