A few times a year, AAF Buffalo likes to engage our membership with interesting, informative Skillshops. These sessions feature topics that can range from copyright law to analytics to trade shows and more. On Monday, October 15th, Hadley Exhibits kicked off AAF Buffalo's Ad Week with a Skillshop of their own. The firm hosted more than two dozen club members, presenting "Trade Shows in the Age of Digital."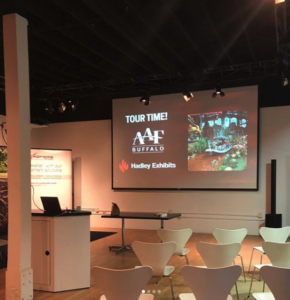 Our members took an in-depth look at what's new in the fun and engaging world of B2B marketing. Our board member, Alex Keogan, hosted the night with an interactive presentation detailing what companies and agencies can do to really engage their or their client's audience before, during, and after a trade show. Following Alex's talk, the attendees took a tour of the 180,000 square foot facility where Hadley Exhibits designs, fabricates, and stores displays.
Keep an eye out for our next AAF Buffalo Skillshop in January 2019!