Recap: The Big Tip-Off 2019
The Big Tip-Off remains in tippity top shape.
Last week, we hosted our 9th annual "celebrity" bartending event, The Big Tip-Off. This popular event raised more than $5,000 for the AAF Buffalo Scholarship Fund, which supports the local advertising community by awarding local high school and college students annually.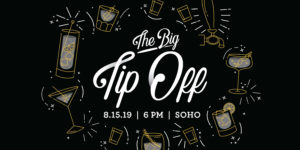 The event featured several of Western New York's advertising bigwigs behind the bar at Soho, competing against each other to see who could bring in the most tips. A record 205 advertising professionals attended and contributed tips to the bartenders. A special thank you to our celeb mixologists:
Tom Burtless (Mr. Smith)
Joe Russell (Crowley Webb)
Christopher D'Amato and Molly Christman (Block Club)
Allie Friedman (Mower)
Adam Bauer (FARM)
Marilynn Millitello (The Martin Group)
Jess Kobis (Luminus)
Shannon Silva (dpost)
Mike Christensen (Fifteen)
Todd Harmon (Quinlan)
The Buffalo News Smiles photographer was kind enough to stop by and capture the event.
Shout out to Crowley Webb, the big winners of the night, raking in the most tips!
See you all next year, folks!