Last week, the Ad Club hit the Southtowns with a visit to 42North Brewery, where we got to chat about branding and music festivals with Jennifer Brazill (Borderland Festival Producer) and John Cimperman (EVP, Match Marketing, 42North Brewery Owner, and Borderland Festival Producer).
The trip was well worth it—not just because of the delicious beer (thanks 42North!) and the snacks that our ravenous post-work bellies enjoyed—but because it ended up being a great discussion about all the stuff us ad geeks love to nerd out on. We chatted music festival planning, branding, video production, what it takes to create authentic experiences, managing crazy deadlines, and understanding audiences, to name a few. Creatives and pros chimed in from all walks of career, which allowed for an open-ended conversation with some great challenges and questions.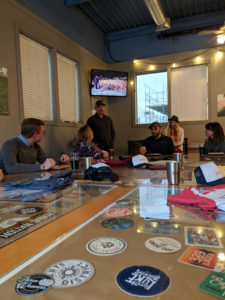 Sometimes it's not the big event with the famous speaker that energizes you to get back to the grind, but a meet up with your friends and colleagues over a topic, a beer, and a fun location. This event was quite invigorating and certainly has us craving the summer and festival season. See you at Borderland!