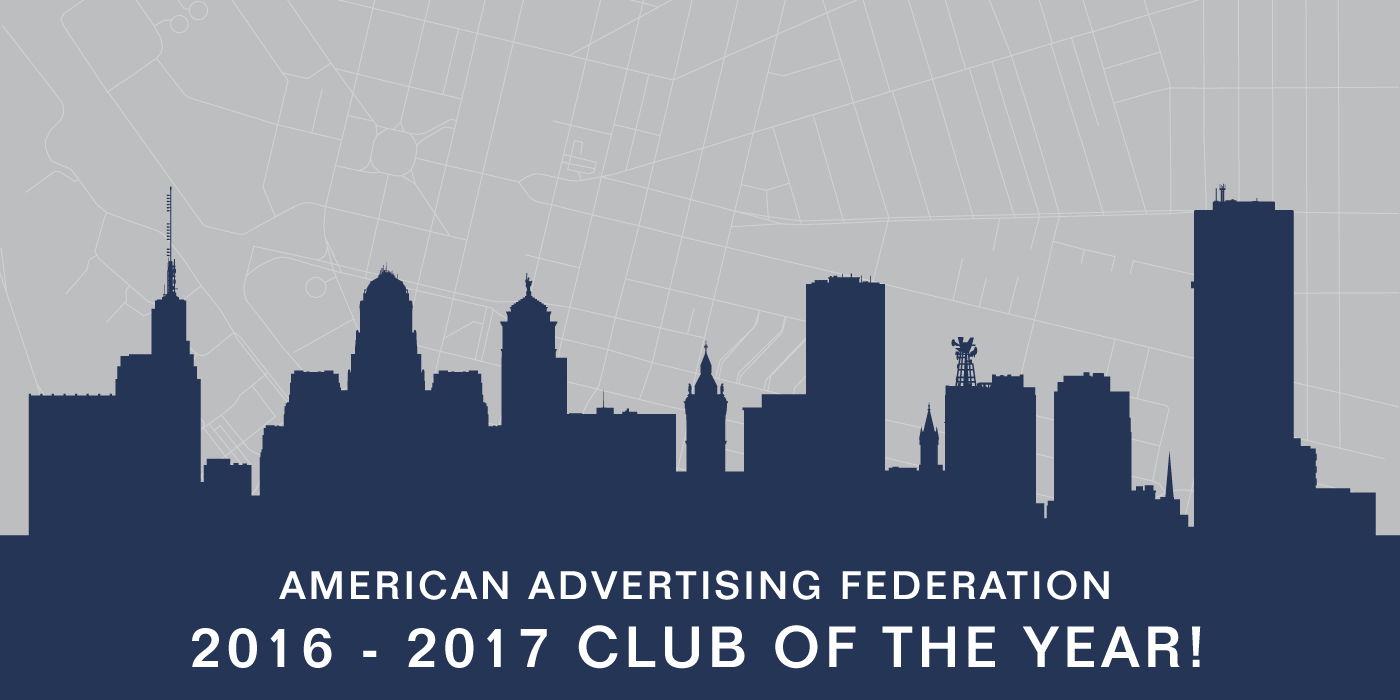 By Dan Nesselbush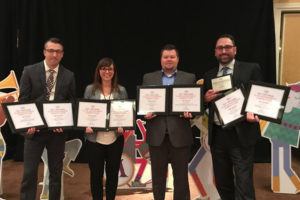 Yes, you read that right. Of the 200 American Advertising Federation chapters across the United States, your friendly neighborhood ad club known as AAF Buffalo left New Orleans with the title of 2016-17 Club of the Year! The honor also earned recognition for Scott Bartels as 2016-17 President of the Year during ADMERICA, the AAF's annual national conference.
The accolades, earned through AAF's Club Achievement Competition, resulted in an extra checked bag fee thanks to a stack of awards presented during the four day conference. We collected eight plaques in the competition which recognizes local advertising clubs for their initiatives in a variety of categories established to honor the significant contributions of the AAF network of professional advertising clubs and to encourage excellence in areas of club operations that contribute to the strength of the AAF's member clubs.
AAF Buffalo is part of Division II (250-499 members) for the club achievement awards competition and became club of the year based on points earned for first and second place finishes in the following categories:
1st Place AAF Club Achievement Awards
Club Operations
Membership Development
Diversity & Multicultural Initiatives
Government Relations
2nd Place AAF Club Achievement Awards
Advertising Education
Communications
Programs
Public Service
Being honored as AAF Club of the Year was sweeter than a Sunday morning beignet at Café Du Monde, but the NOLA edition of ADMERICA offered so much more for our organization. It provided great opportunities for our executive board to hear from industry leaders and champions of diversity initiatives, meet with our fellow AAF chapters, attend a slew of workshops, and draw inspiration from the best of the best at the American Advertising Awards.
A huge thank you goes out to each and every member of our board of directors: Scott Bartels (HSBC Bank USA), Tim Bouchard (LUMINUS), Kyle Rogers (BlueCross BlueShield of WNY), Jaime Applegate (NOCO), Andrew Bevevino (Martin Davison Public Relations), April Brown (FARM), Teresa Carosa (Independent Health), Erin Collins (BlueCross BlueShield of WNY), Brita D'Agostino (Daemen College), Erin Haskell (Great Lakes Orthodontics), Brittany Klotzbach (Gelia), Jillian Minderler (Quinlan), Marcia Rich (Crowley Webb), Shannon Silva (dPost), Grace Gruarin (Telesco Creative Group), Alexa Godwin (Crowley Webb), club admin Tina Pastwik, and our student liaison Angela Marini. They balance their work and family obligations, yet still find a way to volunteer their time and energy throughout the year to make club initiatives happen.
It would be very remiss of us to not thank our members, corporate members, sponsors, and the employers of our board members for tremendous support throughout the year. Your participation allows our organization to thrive and create opportunities for all involved in the marketing communications field in Western New York and that backing is greatly appreciated.
All of those awards are the result of a very busy year, so we're going to give everyone (except our board members) the month of July off. We'll see you back at The Big Tip-Off on August 24 at Soho Burger Bar as we raise funds for our academic scholarship programs.