Blog post by Kyle Rogers
"Who do we want to be?"
That is a question UB's Athletic Director Danny White has been trying to answer in his three years with our region's largest university and a question he addressed in front of dozens of advertising pros at our Adtoberfest kick-off event.
You've likely heard about Danny's strategic vision for the University at Buffalo, coined the "New York Bulls Initiative." The vision, as explained by the AD, is to become the premier athletic department for the state of New York and bring big-time college athletics to the WNY community and the state at large.
Sure, some may see this as an attempt to rip UB's deep roots from our community (a few joined us last night). But this is no deterrent for an innovative and progressive athletics director like Danny, who saw the potential in telling UB's story on a national scale.
But what is UB's story? What's there to get recruits, fans, and donors excited?
How about:
Member of AAU (alongside big-time programs like UCLA, Michigan, Florida, Ohio State)
Largest/highest rated public university in the Northeast
Law, medical, dental, business and engineering schools all ranked Top 100 nationally
Over 220,000 alumni nationwide
$1.7 billion economic impact
Large market size with a regional population (WNY) over 2.5 million people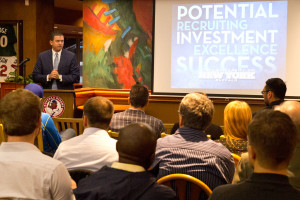 Okay, that is pretty impressive. But how are you going to communicate that? And what are you trying to accomplish?
As White explained, "That's the easy part. It took over 150 years to establish the University as a nationally-recognized research university and AAU member. Getting the word out? I'd say that's a lot easier."
White's first moves were to establish a strategic vision including 4 pillars: Image, Partnerships, Resources and Facilities. Working with an impressive board of advisors and New Era Cap, the department developed a marketing and branding platform that included a new mark, a temporary signal of where the program is heading.
Content, Content, Content
UB's creative department, built like a Big Ten school, ran with it and developed a brand that was exciting and sexy. The department developed professional level production facilities so the school can create its own video and web content to help tell the stories of UB student athletes while forming strategic partnerships with ESPN3 and media outlets across New York.  A fully integrated approach that included paid, owned, earned and social media made waves across the region and across the alumni base.
Some of the early successes include shattering attendance records, record-breaking fundraising, 9,306 media mentions (ad value of $25.7 million), and three NCAA tournament appearances (UB had one before. Ever.) One of White's proudest accomplishments? "We were the only school to go to Columbus for the NCAA regional and have the alumni pre-game party shutdown," due to capacity attendance from excited fans that made the trip. Way to go Buffalo!
The Cal of the East
Despite these big wins, the #NYBI is still a work in progress. A great deal of question marks still remain about the long-term sustainability of the current mark, a unique game-day experience, and what the UB Bulls will ultimately be called. One interesting comment was about UB striving to become the "Cal of the East," as a reference to the Berkeley campus of the University of California which is also the flagship of a comprehensive university system where the brands are essentially separated – academics often referred to as UC Berkeley while athletics are known as Cal.
On behalf of the Ad Club, we'd like to thank Danny for giving our club a peek at what it takes to elevate the brand of a major college athletics program as well as taking part in a great question and answer session!
"Branding the Bulls" was the kick-off to Adtoberfest: 2015 Buffalo Ad Week and continues with events Wednesday and Thursday: Adtoberfest: 2015 Buffalo Ad Week