At our most recent Ad Lab, we were honored to have Anthony Shop (@afshop) present at The 9th Ward. Anthony cofounded the digital innovation agency Social Driver. It has since been named the seventh fastest growing agency in the U.S. by The Agency 100. As chief strategy officer, Anthony has sparked innovative campaigns for a portfolio of industry-leading clients.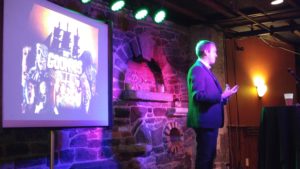 All that is great, but you know what is even greater? The iconic movie The Goonies from 1985, which is exactly what Anthony used to start off his talk. Hundreds of people each year travel to visit the house featured in the film. No one told them to do this (in fact the home owner did not want visitors), it just happened organically. The point is, you can't force people to love something. Instead of trying to create a cult following or a viral moment – as so many brands are wishing for daily – tap into existing energy and use that to your advantage. Ask yourself: What do people already care about? Where is the energy already and how can you tap into it?
Very few brands have been able to successfully do this. Anthony gave two great examples in his talk. First was the Ellen DeGeneres selfie of the 2014 Oscars, which was taken on a Samsung phone. Samsung didn't place its logo on the photo or do anything other than provide the phone, but that selfie ended up being the most retweeted post ever and even broke Twitter for a short period of time. Samsung was able to tap into the existing energy of the Oscars and place its product in an influential place at the right time.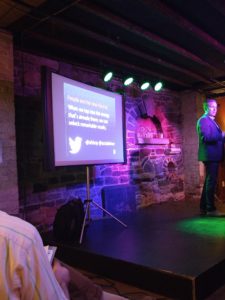 The second example was "The Dress": Did you see it as white and gold or black and blue? This argument caused everyone to freak out in 2015, and many brands tried to jump on this bandwagon. Anthony pointed out one company that was able to successfully use The Dress to their advantage in a campaign – Salvation Army. Check out the link to see the campaign designed to raise awareness of domestic abuse, which utilized the preexisting hashtag #StopAbuseAgainstWomen. Which brings us to Anthony's next point: Don't try to create your own hashtag and expect it to go viral. Use one that already exists and has some momentum. Embrace the opportunity to give up control and be authentic. Salvation Army was able to successfully innovate instead of imitate, like so many other brands did with The Dress.
Learning the importance of personalization and the benefits of using social media stars to advertise a brand were two other takeaways from Anthony's talk. The third huge takeaway was how to have a streamline process for social media management. When a hot moment on social media is happening, brands need to be able to jump on it quickly or they miss out. This can seem impossible when you have four levels of approval to get through and it's a Friday night after office hours, so he suggests a traffic light system: Topics, people, or keywords that are always okay to repost or retweet are green. Some that may still need a level of approval are yellow. And ones that are definitely a no-no are red. Have this system in place before a big event so your social media team can be ready to act at the drop of a hat. And speaking of hats, Anthony gave the example of Pharrell Williams's hat worn to the 2014 Grammy Awards that coincidentally looked like the Arby's logo. Arby's quickly tweeted about it and social media history was made. Talk about flat, fast, and fun – one of Anthony's mottos.
Read what Ad Lab attendees had to say about Anthony Shop below.
Great day in #Buffalo with @adclubofbuffalo. Amazing people, wings, beer, tacos, people, people… #buffalovepic.twitter.com/TFSjftOzgb

— Anthony Shop (@afshop) April 22, 2016
@afshop @adclubofbuffalo Great talk last night. Very insightful! Thanks again.

— Scott Fierle (@fearlesfly) April 22, 2016
Feeling motivated once again after tonight's @adclubofbuffalo event with @afshop People are the New Channel. #socialmedia #alwayslearning ⚡️

— Charles Waldorf (@CharlesWaldorf) April 22, 2016
Interesting comparison by @afshop: #snapchat filter is the new step-and-repeat. Great @adclubofbuffalo talk. pic.twitter.com/CKhdhw8Nud

— John Jiloty (@jjiloty) April 21, 2016
Great #AdLab tonight by @adclubofbuffalo and Buffalonian for a day, @afshop. pic.twitter.com/DE74Jsl3H9

— Manzella Marketing (@ManzellaMktg) April 22, 2016
Talking shop with @afshop and the @adclubofbuffalo. People are the new channel, people. pic.twitter.com/khFMjnnrT4

— Charlie Fashana (@CharlieFlash23) April 21, 2016
Takeaways from @afshop: innovate don't imitate; put customers at center of your message; JOIN the conversation. pic.twitter.com/NP8WbqjrYg

— The Martin Group (@tmgbrandfuel) April 21, 2016