By Lauren Carmer
Ugly shoes and ugly sweaters abounded at this year's Jingle Bowl on Wednesday, December 6. AAF Buffalo hosted its 4th Annual Holiday Bowling Tournament at Kenmore Lanes to support the Food Bank of WNY.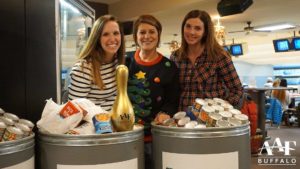 Buffalo's creative minds came with open hearts to donate non-perishable food items amassing 649 pounds, enough to warrant its own show on TLC. Or as we like to put it, 540 meals for neighbors in need.
Manzella Marketing, Luminus, Telesco Creative Group, Gelia, Parkway Digital, FARM, The Revs Agency, Crowley Webb, Goldberg Segalla, 19 IDEAS, and Quinlan came together for the cause before hitting the lanes with their best Lebowski impressions.
Sixteen teams of four, including eleven company-sponsored teams, came to represent. But only one took home the glory and the coveted golden pin.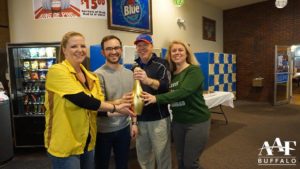 Manzella Marketing sleighed, pinning down prizes in every category. Scott Fierle was named the top men's bowler, Nicole Meisenburg was named the top women's bowler, and the Manzella team was named top team, sweeping the tournament. (Can you say ringer?) They wiped the floor with the rest of us, but we'll spare you the details.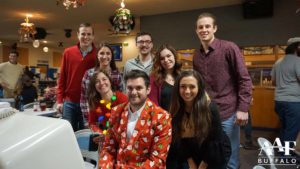 Thank you to Quinlan for sponsoring the event and to Kenmore Lanes for having us. And thank you to Big Ditch Brewing Co., NOCO Express, and Certo Brothers for donating additional prizes.
Head over to our Facebook page if you want to see the full gallery of all the beautiful people who joined us in ugly shoes and sweaters