"F*** it Dude, let's go bowling." – Walter Sobchak, The Big Lebowski 
Oh did we ever bowl. The 2019 Jingle Bowl was nothing short of a success. Crowley Webb, Fifteen, Gelia, HSBC, Luminus, Telesco, FARM, Evans Bank, Quinlan, and AAF Board Alumni all came together on December 4 at Kenmore Lanes to bowl for a cause.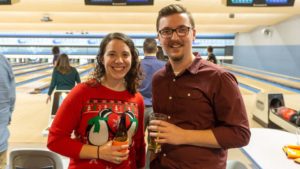 Sixteen teams of four competed for the golden pin. And while Todd Harmon from Quinlan, with his shiny silver bowling shoes, stole most of the spotlight with winning Highest Individual Score for BOTH games one and two (and who was also on the team declared to be most festive), it was Evans Bank who took home the trophy with the Highest Overall Team Score: 1,141 points! 
Attendees donated to FeedMore WNY upon entering the event. Beating last year's total, we weighed in at 531 pounds of donated non-perishables to help feed families during the holiday season. Way to go Buffalo!
Drinks were flowing all night long. FARM, the hosts of the 2020 Addy's, made sure of that when they delivered pitchers of beer to each of the 16 teams of bowlers upon announcing this year's theme: SPEAKEASY 2020 – THE ADDYS GO UNDERGROUND. We can't wait to see what unfolds for this year's show on March 6, 2020.
Thank you to Evans Bank who sponsored the event as well as Quinlan, Crowley Webb, and Big Ditch Brewery for donating prizes for our best (and worst) and most festive bowlers. 
You can find us in all of our ugly sweaters and shoes over on our Facebook page.
We will see you all next year!