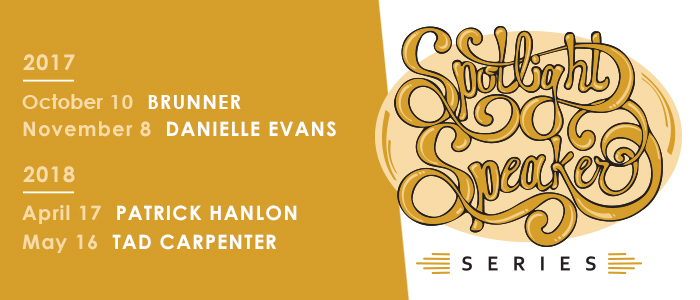 AAF Buffalo's Spotlight Speaker Series is an evolution of our popular AdLab events. In its second year, this four-part guest speaker series is designed to provide professionals and students in Western New York an invaluable opportunity to learn and draw inspiration from industry veterans from other markets. Over the years we've welcomed the likes of Aaron Draplin, Seth Godin, Todd Radom, Brokaw (Ad Age's Small Agency of the Year), and many more industry leaders who brought their insight to Buffalo.
Spotlight Speaker Series Pass
Unfortunately you missed the savings of a 2017-18 series pass. The series pass is an exclusive offer to current AAF Buffalo members to save an additional 15% when all four event tickets are purchased at the same time.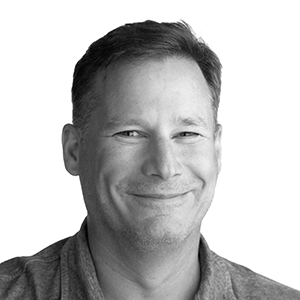 "Disrupting The Big Game"
October 10, 2017 at Big Ditch Brewing Company
Kevin Corfield – An associate creative director at Brunner in Pittsburgh, PA, Kevin is on his second stint at the agency after spending a couple years down south at Howard Merrell & Partners in Raleigh, NC. His primary accounts at Brunner are 84 Lumber and WesBanco, He's touched nearly every piece of business that's passed through the doors at the agency including CARE, Zippo, CONSOL Energy and Bob Evans. Prior to Pittsburgh, Kevin worked as a writer for The Walt Disney Company in Burbank, CA and Charron, Schwartz & Partners in New York City. He's received accolades from The One Show, D&AD, Cannes Lions, O'Toole Awards, OBIE Awards and National ADDY Awards. When not working, Kevin likes to golf and run very slowly – which would actually make it jogging, but running sounds more athletic.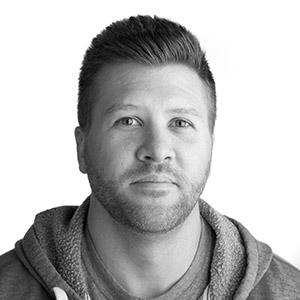 Derek Julin – Upon graduating from the Art Institute of Pittsburgh in 2005, Derek joined Brunner. During his first stint at the Pittsburgh agency he created memorable campaigns for Cub Cadet and Zippo. Then it was off to the windy city to work at FCB. At FCB Chicago, Derek helped create the NHL Stanley Cup Campaign "Because It's The Cup" as well as a new global brand campaign for DOW. He also worked on a DOW campaign for the 2012 London Olympics, along with campaigns for KFC and Taco Bell. With some big city experience under his belt, he returned to Brunner and his hometown of Pittsburgh in 2012. He is currently an Associate Creative Director and works primarily on 84 Lumber. Derek's work has been honored and recognized by The One Show, D&AD, Cannes Lions, CA, Archive, National Addy Awards, The Webby's, The AICP Awards and Graphis.
In this talk, the team from Brunner will take you behind the creative process and execution of one of the most talked about commercials of 2017, 84 Lumber's ad created for Super Bowl LI.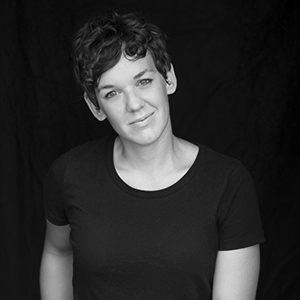 "Art School Confessional"
November 8, 2017 at Big Ditch Brewing Company
Danielle Evans  – Danielle Evans is a visual punner and lettering artist from Columbus, Ohio. In 2013, she combined lettering, photography and dad jokes to start food typography and continues to blaze the niche's breadcrumb trails. Her work is a clever marriage of design and artful arrangement– approachable, tongue-in-cheeky, and hailed internationally as a visual feast.
Danielle's work has grown beyond edible goods to plants, wearables, and everyday objects; she embraces the strangest visual challenges with optimism, and has probably oiled more lobsters than you. Her clients include Target, Disney, American Greetings, McDonald's, John Frieda, Aria, TAZO, FYI for SXSW, Lays, Parade, Condé Nast, Tesco, Bath & Body Works, Cadillac, Purina, theGuardian, FOUR, DiGiornio's, The Washington Post, Seattle Times, LDS , and Kellogg.
Learn the beginnings of food type, and discover what encouragements from the not-so-distant past can inform our creative futures. A journey of self-discovery down a raw meat trail in this presentation by Danielle Evans.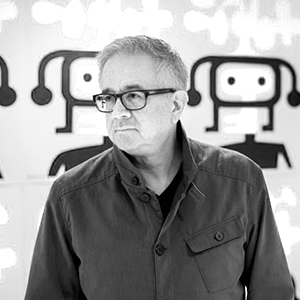 "Branding Isn't Like Molding Fog. Anymore."
April 17, 2018 at Big Ditch Brewing Company
Patrick Hanlon – Patrick Hanlon is the Charles Darwin of branding. His finches are human beings who gather in crowds. Conventional "Branding" has been broken, disrupted and evolved. By unveiling the construct of brands as belief systems that attract others who share your beliefs, Hanlon uncovered what Harvard sociologist E.O. Wilson describes as the "natural selection for social interaction." The pattern of social interactions, outlined in Hanlon's books "Primal Branding" (2006) and "The Social Code" (2015) defines how to create deep belief and active advocacy for people, places and things. Recognized as the world's leading brand evolutionary, Hanlon is CEO and founder of THINKTOPIA®, a global brand and strategic innovation practice for Fortune 100 clients that have included American Express, Levis, Bill and Melinda Gates Foundation, PricewaterhouseCoopers, Kraft Foods, Johnson & Johnson, Yum! Foods, Wrigley, PayPal, Gap, the United Nations and others. His book Primal Branding: Create Zealots For Your Brand, Your Company And Your Future was published by Simon & Schuster/Free Press, is listed as one of the Top 10 books in marketing and branding and taught at progressive colleges and universities around the world. Primal Branding is the seminal book on the evolving role of brands as belief systems—and in 2006 anticipated creating social communities around brands, whether products and services, personality brands, political or civic movements, or actual civic communities.
Patrick's presentation will teach you his unconventional view that brands are belief systems in which people not only buy you, they buy into you. Learn the unifying construct that delivers across digital, social and traditional experiences.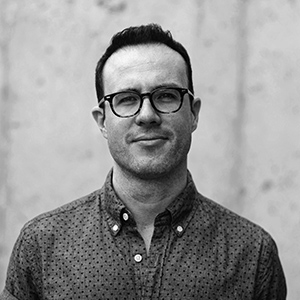 "Work Hard. Get Lucky."
May 16, 2018 @ Big Ditch Brewing Company
"Work Hard. Get Lucky" Learn how to bring a message to life through branding, packaging, and illustrative-based design. Carpenter will introduce you to the process behind his work and will take you behind the scenes of his most famous projects. Discover how hard work and luck align in the design field in this presentation by Tad Carpenter.
About the Speaker – Tad Carpenter is a Missouri-based designer, illustrator, author, and teacher, known for his vibrant and playful designs. He co-runs the design studio Carpenter Collective with his wife, Jessica. The studio handles everything from branding to strategy and design for its clients, which include Target, Coca-Cola, Macy's, Old Navy, Conan O'Brien, Adobe, and MTV, among many others. You may recognize his colorful and whimsical poster work for John Mayer, Bob Dylan, Radiohead, Paul McCartney, and Dave Matthews Band, to name a few. Carpenter's work has appeared in numerous publications, and he's written and illustrated over a dozen children's books. He currently teaches graphic design at the University of Kansas.