2017 ADDYs Recap: AD SMACK BATTLE RUMBLE MANIA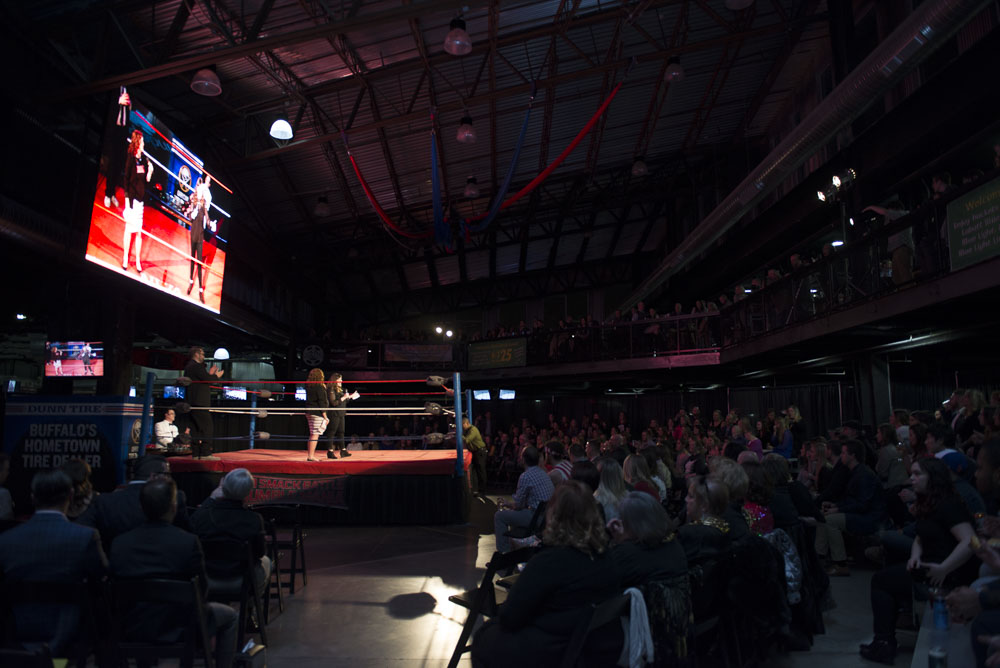 On Friday, March 10, the local ad community came together to recognize the true winners of our industry: the creative geniuses of Western New York.
More than 410 advertising masterminds entered the ring at Buffalo RiverWorks to attend the 2017 WNY American Advertising Awards. From snarky signs to exclusive entourages, the atmosphere was lively, competitive, and celebratory – reflecting the show's theme, "AD SMACK BATTLE RUMBLE MANIA," perfectly.
Developed by local agency Crowley Webb, this year's awards show satirized the hyped-up competition between local ad agencies around award season. Over 500 professional and student entries were received and scored by judges from Atlanta, Chicago, New York City and Washington D.C.
Special thanks go to co-chairs Marcia Rich, UX Designer at Crowley Webb, and April Brown, Art Director at FARM Buffalo, who worked hard to ensure a raucous time was had by all.
And now, on to the winners.  Read on to view the great achievements of the night.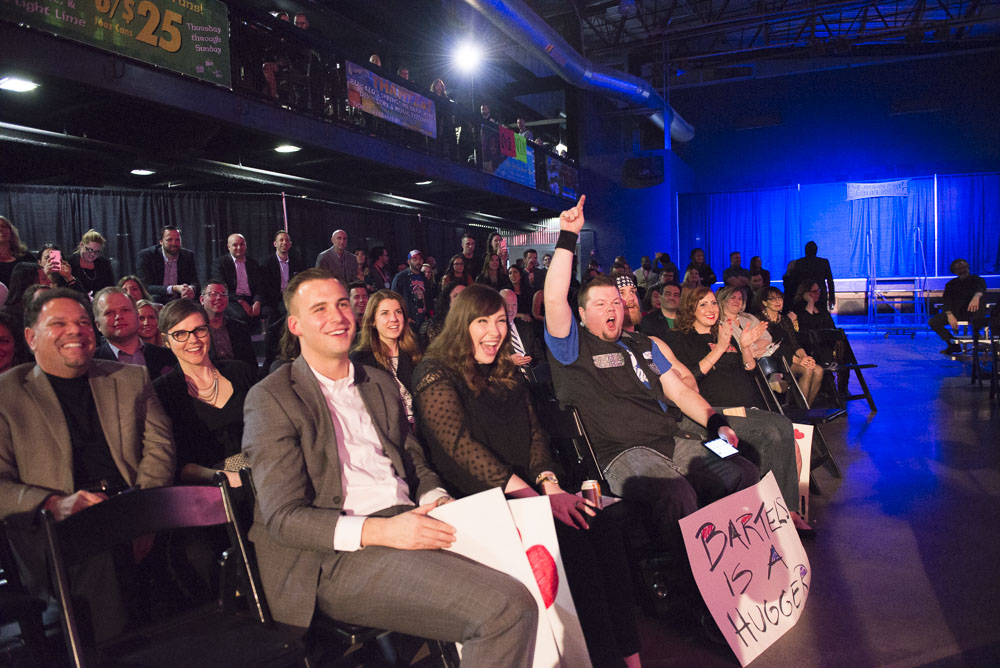 Professional Winners
Crowley Webb brought the final smack down, taking home the most ADDYs with 29 awards (5 Gold, 24 Silver). Gelia received a total of 26 awards (16 Gold, 10 Sliver), Block Club was honored with 16 awards (3 Gold, 13 Silver), The Martin Group took away 13 awards (13 Silver), White Bicycle secured 12 awards (7 Gold, 5 Silver), and dPost 11 awards (8 Gold, 3 Silver). A total of 26 companies took home at least one gold or silver award.
Other award winners include:
FARM Buffalo (2 Gold, 6 Silver)

Eric Mower + Associates (1 Gold, 4 Silver)

FIFTEEN (8 Silver)
Best of Show
The big winner of the night was Gelia, picking up the Best of Show Award for their Smiling Teds, "Science of Used Car Dealers" campaign.
Special Awards
Several very talented individuals were also honored with Special Awards.  The 2017 recipients were:
Andy Donovan, President, dPost – David I. Levy Communicator of the Year Award
This award was created to recognize outstanding achievement and service in the communications industry.

Andy Donovan, President of dPost accepts the David I. Levy Communicator of the Year Award.
Laurie Wolfe, Broadcast Producer, Laurie Wolfe Productions – Alex Osborn Award for Creativity
Named in honor of Alex Osborn of Batten, Barton, Durstine & Osborn fame, this award recognizes individuals who, through outstanding creative achievements, have left an indelible mark on the Western New York creative community.
Ted's Hot Dogs – The Odysseus Best Client Award
The Odysseus Award was established in 2011 by the Advertising Club of Buffalo to honor a client in the Western New York market (individual or group/department) who has used the discipline of strategic marketing and advertising in an extraordinary way.
Charlie Riley, Director of Marketing and Communications, Lawley – Joe Crowley Award for Service
This award recognizes not only hard work, but also outstanding achievement in furthering the activities and interests of the club.
Sam Tato, 3D Artist, dPost – AAF Buffalo Future Star Award
This award honors an outstanding young professional in the marketing and advertising field who has demonstrated great potential in his or her early years in the industry.
The Veritiv Creative Use of Paper Award
White Bicycle received this award once again for their Andrea Nardello "Fire" Packaging for Blue Elephant Records. A special thanks to Jean Clemens from Veritiv for her continued support of AAF Buffalo and this award.
Best Show Book Ad Award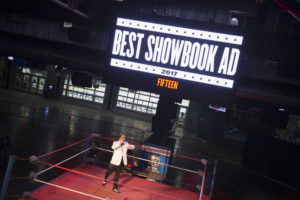 FIFTEEN won this year's award with their interactive thumb battle rumble mania-themed ad.
Student Winners
College students were also included in the action. Taking home the Student Best of Show were Alexandra Casarsa, Courtney Ewings, Gina Griffo, and Samantha Lonczak of Villa Maria College for Skald Book Design. Lonczak's 4 student awards (1 Gold, 3 Silver) were the most overall. Angela Marini of Daemen College took home 2 Gold awards, while Holly Norris of Buffalo State College took home 1 Gold and 1 Silver. A total of 17 students took home at least one gold or silver award.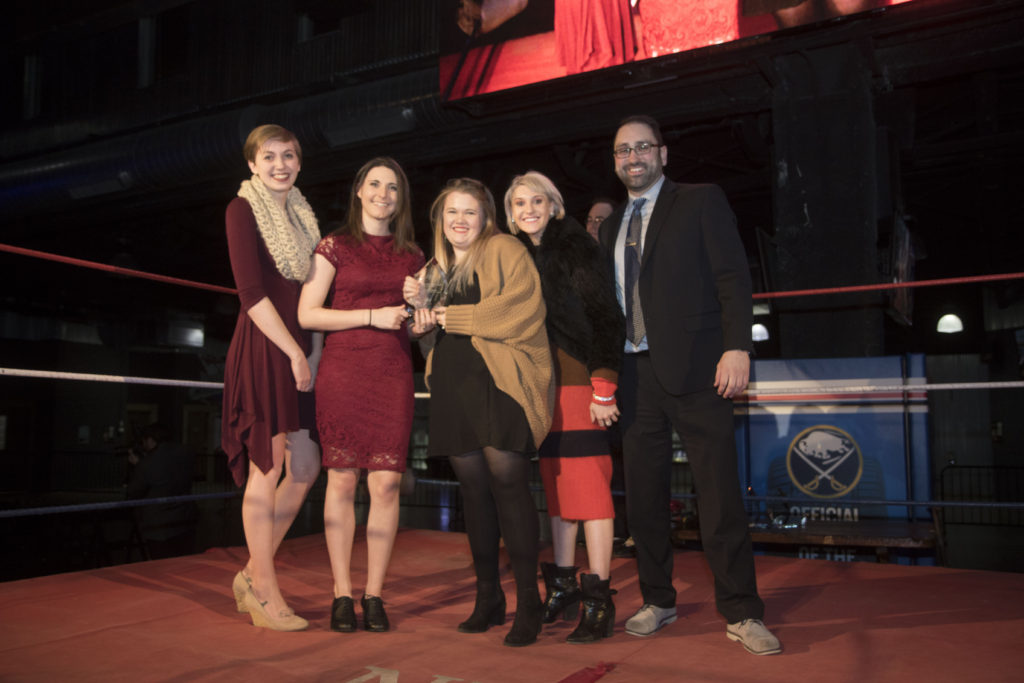 Students each taking home one Gold award include:

Grace Gruarin, VIlla Maria College

Noah Herman, Daemen College
Student Silver award winners include:
Alexandra Casarsa, Villa Maria College

Troy Deweever, St. Bonaventure University

Courtney Ewings, Villa Maria College

Jeffery Marotta, Villa Maria College

Jessica Puskar, Villa Maria College

Rachel Peck, Canisius College

Alicia Salerno, Villa Maria College
Thank You to Our Sponsors
The 2016 WNY American Advertising Award Show was sponsored by: Buffalo Limousine, Holiday Inn Express, WNED TV, Gateway Printing & Graphics, Inc., Big Ditch Brewing Company, IMG_INK, Veritiv, Cohber Press, Inc., Hodgins Engraving, Minute Print, PromoWorks, CJ Sound, Sound Video Solutions, and Speier Displays.
On to a Bigger Ring
The Gold and Silver winners in both professional and student categories will have the opportunity to compete in the AAF District 2 American Advertising Awards with the hope of moving on to the national show in New Orleans in June.
Congratulations to all the winners and another successful year of work in WNY!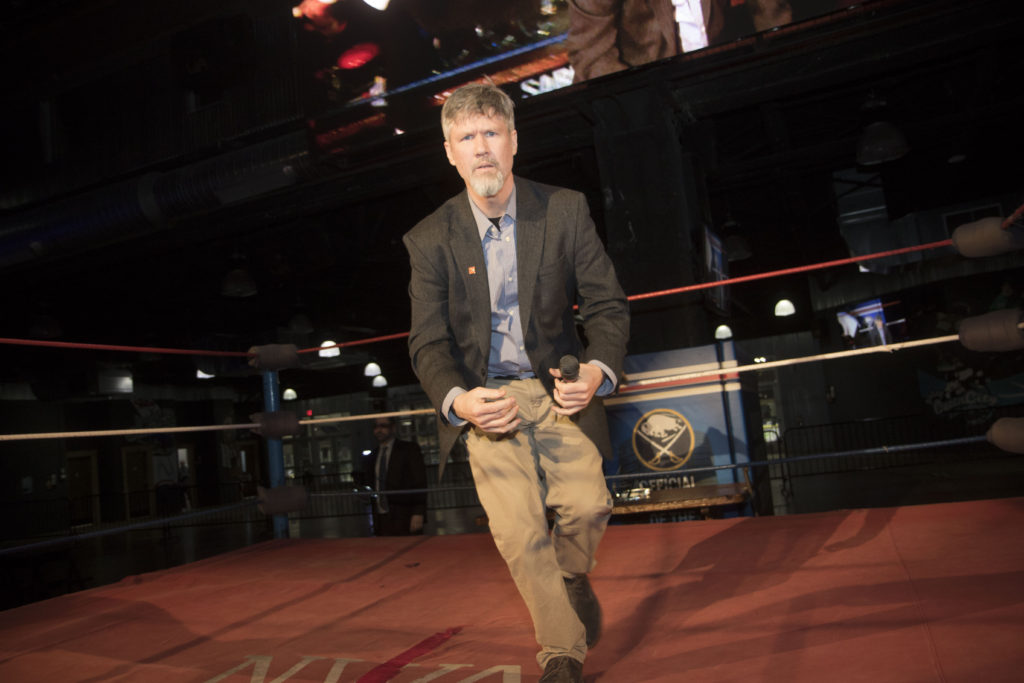 Watch the judge's Best of Show selection process below. Special thanks to Jason Yates for this superb contribution.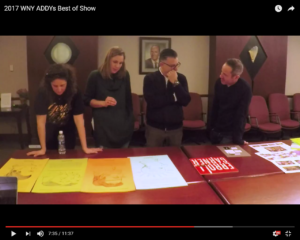 Relive the memories by flipping through the 2017 American Advertising Awards show book, or view pictures from the night on our Facebook page.