By Erin Collins
It's a time of evolution and revolution for AAF Buffalo, formerly the Advertising Club of Buffalo. A notion that rings clear after the conclusion of a successful Buffalo Ad Week.
Ad Week 2016 covered all the bases – we laughed, we learned, we lost, we cried. There was a little bit of fun, a little bit of seriousness; a nod to the old, and a salute to the new. We're sad Ad Week's over, but so happy it happened. See below for a recap of AAF Buffalo's Ad Week 2016.
Monday – Buffalo Prep Student Day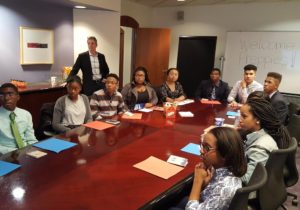 On the first day of Ad Week, we suited up with 12 Buffalo Prep students to show them what a career in advertising is all about.
Visiting three agencies over the course of a day, the students gained a valuable snapshot of professional advertising. They first began at Crowley Webb, where they were introduced to the various roles of an ad agency and got a first-hand experience in working on a creative brief to create an ad for Milk Duds.
From there, the students headed across the street to Luminus Media where they were hired as interns for an hour. The group participated in a branding exercise to learn how a brand comes to life, and each was awarded an official certificate of completion.
The last stop was a few blocks down at dPost. There, the group toured the studios and spent some time in an editing suite to sample some of the great work dPost does.
At the end of the field trip-esque day, the students reflected on how their visits introduced them to careers in advertising they didn't even know existed. Also announced as part of this event was a new scholarship, to be awarded to a Buffalo Prep student who will be studying advertising in college. The recipient will get $500 a year for four years, totaling $2,000 in scholarship funds. All in all, a nutty and knowledge-packed day.
Tuesday – Official Ad Week Proclamation; Meet Your Future: Pro Tips from AAF Buffalo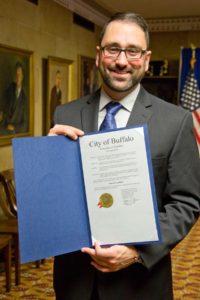 On the second day of Ad Week, Mayor Byron Brown gave to me (us)…. An official proclamation of Ad Week!
On Tuesday, AAF Buffalo president Scott Bartels, along with Buffalo Prep students and representatives, received a proclamation from Mayor Byron Brown declaring it Ad Week in Buffalo.
The Buffalo advertising industry collectively employs over 1,000 people, with annual wages exceeding $60 million. In addition, several advertising and marketing firms are either headquartered in or have recently announced plans to re-locate to the City of Buffalo. Said Byron Brown, "The advertising industry is helping to improve the quality of life of Buffalo residents, and adding to the economic development underway in our city. I am pleased to proclaim this week as Advertising Week in the City of Buffalo to recognize this important profession."
Following the proclamation, four AAF Buffalo board members visited the University at Buffalo to answer panel questions from students studying in the fields of marketing and advertising. From awkward intern anecdotes to portfolio advice, students gained insight on how to market themselves for life after college. UB student and AAF Buffalo student liaison Daran Xu concluded his lessons learned, saying, "All the panels talked about the importance of networking with professionals. I learned that I have to push myself, get myself out of the comfort zone to talk to other people, to engage with other people. By internships and networking, I can learn more about the real world and what is really happening outside of school."
Wednesday – Marketing Your Customers Want: The Alchemy of Content Marketing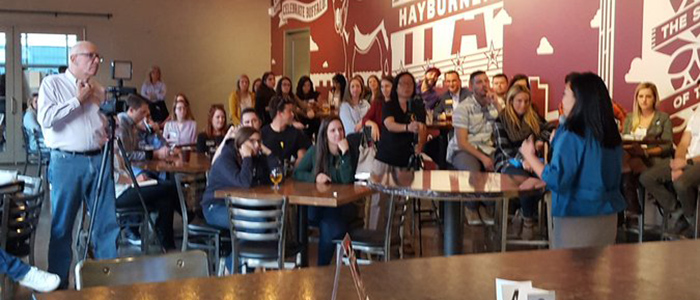 Wednesday brought us marketing guru Zontee Hou at Big Ditch Brewery. Beginning with a familiar hypothetical – "Have you ever been sitting with a group of people, only to realize everyone but you is on their phone?" – Zontee explored ways to become the enthralling electronic advert that give those friends a reason to be glued to their screens.  Filled with other real-world examples of her own work and that of her clients, she told a crowded room of creatives how to create a brand that meets high expectations and establishes loyalty. Teaching that content can be almost anything, how to use content marketing to subtly educate customers on your product, and ways to create a personality once-removed from your brand, Zontee's talk kept her audience engaged and curious – a testament to her own success in the world of content marketing.
Thursday – Q&A: Quiz & Ale Trivia Night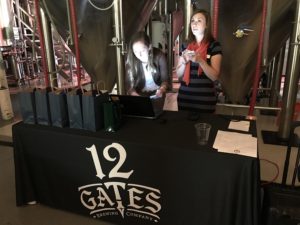 Last but not least, Thursday provided AAF Buffalo members with a time to unwind with fun facts and friends at 12 Gates Brewery. Teams tested their knowledge on beer, advertising, and Buffalo sports trivia – with extra points being awarded to one member for singing the Armenian folk ditty of the Sabres (the 'Sabre Dance'), and to another for remembering the obtuse inspiration behind Rene Lacoste's crocodile logo (he lost a tennis match bet over a crocodile skin suitcase). The team of new connections and trivia champs went home with Buffalo-themed prizes, courtesy of Store716 and Martin Davison PR. And for the losing team, NOCO-branded koozies and keychains kept their spirits high.
Thank you to all of our sponsors for their generous support. All in all, this was one Ad Week for the books.