By Jaime Applegate
Last Thursday, Pegula Sports & Entertainment helped us bring in our new membership year with a video production Skillshop. Joe DeBenedictis and Travis Carlson took us on a crash-course in developing, producing, creating and even editing a short video. They started out the night telling us their stories and showcasing a few of their most recent works. We learned that in as little as 30 seconds, a story can unfold through sights, sounds and movement to convey certain emotions to the viewer. But 30 seconds of video takes much longer to create and Joe and Travis took us through each step. By the end of the night, they created a minute and a half video to demonstrate what we learned (with the help of a few lucky attendees!).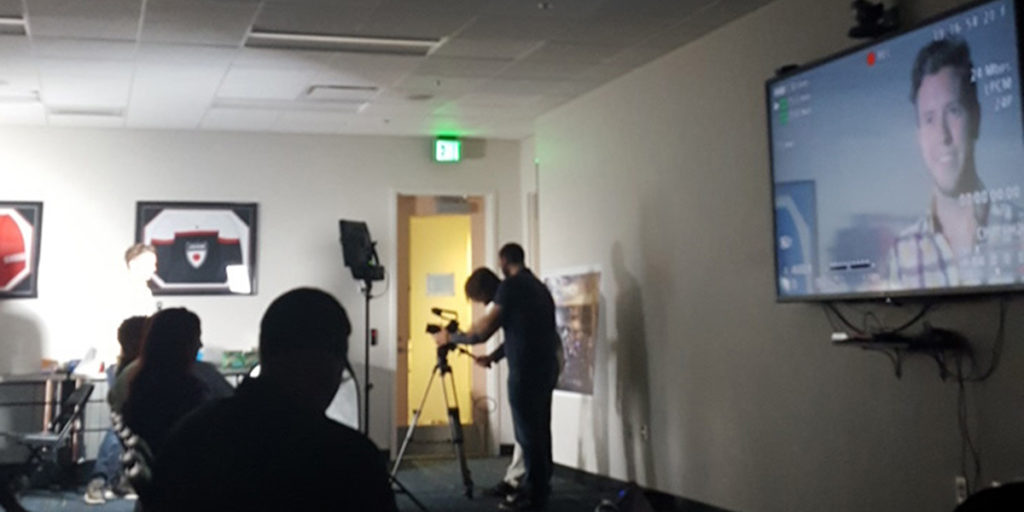 Travis, a videographer with PSE, took us through the fundamentals of story including the "Four P's" – People, Places, Plot, and Purpose. Each point plays an important role in making "the story that you want to see" and should be considered when developing the narrative. He then took us through the secrets of the camera and demonstrated numerous lighting techniques to evoke certain sentiments about the characters. This is where the attendees really got to engage in this Skillshop – Travis and Joe chose "actors" from the crowd and described the plot for our new reality short – "The Breakfast Show." Joe produced and Travis filmed the show keeping everyone entertained as we got a real look at what goes on behind the scenes. I will never look at a reality show the same way again!
Joe, a producer and editor at PSE, shared his tips and tricks in editing with Adobe Premiere Pro. He took us from starting a project in the program all the way to a near-finished piece, staying an extra hour for all the diehard editing fans. Joe finished up the video on his own time and uploaded to YouTube for all the attendees to enjoy: https://youtu.be/HNgltaB0oDw
Fav comment during our @AAF_Buffalo seminar: "you've ruined every reality show for me". You're welcome! #editing pic.twitter.com/FlCD9uRS2s
— Joseph DeBenedictis (@Joseph_Video) September 9, 2016
Attending events like this is always a confidence booster for me because it reminds me of my passion. The storyline, the filming, the lighting – it's all fun to watch but what really got me excited was the editing portion of the night. As a designer, I've dabbled a bit in video editing programs but now I can't wait to try some of the tips I learned. Attending workshops is a great way to learn about different areas of focus in our field. We have a few more planned for this year – make sure to take advantage of this great opportunity to add to your skillset!