Brand Hack was back in person this fall for a fun-filled morning of branding excitement last week.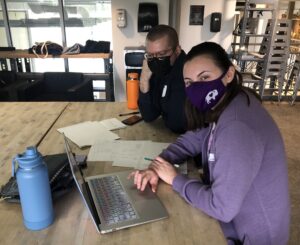 The student event was held by AAF Buffalo at Daemen College and was free for AAF student members. This year's featured organization was Candles in the S.U.N., a local nonprofit that uplifts the Buffalo community through extra curricular youth activities, mentorship and donation drives.
The morning kicked off with some branding 101 tips and a creative briefing from AAF: Buffalo's Education Committee Chair, Noah Herman, along with opening remarks from Dakarai Singletary, Head of Candles in the S.U.N.. Armed with ideas and their pencils, students took to their sketchbooks alongside the Pros. Art Directors from Crowley Webb, Gelia and Renoun Creative collaborated with students on logo concepts for the organization. Students benefited from getting an inside look at the brainstorming process from professionals in the advertising field. Distilling the best concepts, incorporating type and color were the finishing touches as the clock ticked ever closer to the finish line. 
After the students finished their work, they presented their concepts to Dakarai, walking him through each component of their work. Dakarai raved about each concept, finding something of worth from each piece. For example, he loved Coolt McAndrew's logo, which he felt would make a great piece for the company's youth sports jerseys. Karion Carter's graphics would be great for donation drives, and Katelynn Stechsor's badge logo made him think of ways to implement this idea onto t-shirts.
Ultimately, Emma Lonnen's logo was the winning concept to be chosen by Dakarai to move forward with for the company's logo rebrand. Dakarai felt Emma's concept successfully took Candles in the S.U.N. s original logo to the next level without changing directions. 
Congratulations Emma and students for completing this year's edition of the Brand Hack! We are looking forward to seeing you again at next month's Portfolio Seminar. Stay tuned for details!