I want to preface this story by telling you that the headline you just read is not one of those over-sensationalized clickbait headlines designed to draw you into an article that won't live up to the promise of its title. It's not my attempt to "sell" anyone on the Ad Club. This is a 100% true story — my story — of how the Ad Club of Buffalo changed my life, and how I honestly believe it could change yours too.
—–
In February of 2014, the Ad Club sent out an email to all active members saying that they were in need of a new treasurer to join the board of directors. Anyone was welcome to apply.
I was working at Quinlan at the time when the email hit my inbox, and after opening it to briefly consider its contents, I moved it out of my inbox and into the archive folder. It couldn't have been 5 minutes later that Frank Conjerti walked into my office.
"Did you get that email from the Club?" he asked.
"Yeah," I said sheepishly, knowing what he might say next.
"I think you should do it."
Frank was the one who had introduced me to the Ad Club in the first place and encouraged me to start showing up for monthly AdLabs. I knew immediately after attending my first event that I wanted to get more involved and eventually join the board, but I was only 2 months removed from turning 24 at the time, and I was fairly certain that I had no real shot at becoming treasurer given my relative inexperience and lack of connections.
I explained these concerns to Frank, but he wasn't having any of it. He was already a board member at that point and was planning to run for the position of secretary in a few months. He convinced me that I'd have a shot at making it, if for no other reason than the fact that treasurer was seen as a boring job, and not many other people were interested in the responsibility.
Over the next month, I had conversations with Charlie Fashana and Scott Bartels, the president and treasurer at the time, respectively. They both gave me the same advice: Go for it. What I lacked in experience, I could make up for with passion and ambition, and the Club is always looking for eager hard workers to join the board regardless of age or experience level.
Frank and Scott went to bat for me at the next board meeting, telling the rest of the crew that I'd be a good candidate for the job. Everyone else must have been asleep or not in attendance that night, because I came to work the next day to find out that I was the next treasurer of the Ad Club.
Here's me and Frank, celebrating like dweebs.
[responsive]
[/responsive]
—–
Over the course of the next year, I took on as much work and responsibility for the Club as I could reasonably handle (and sometimes maybe a little more than I could handle). Scott's inaugural advice to me upon becoming treasurer was to do as much or as little as I wanted with it. The board was an infinite sandbox of possibilities, and he told me I'd get as much out of it as I put in.
I took his advice to heart and jumped in wherever possible. The Club had an ambitious schedule and plenty of work to go around, so  I was able to help with planning events, writing copy, sending emails, building web content, and a whole host of other tasks that I might not have been able to do at my day job. It gave me a creative outlet where I could comfortably learn new skills and try new things without the fear of losing clients over a cheesy email subject line.
By day, I was an account executive, but by night I was extremely restless. Not so much with my job, but with my entire career path. Was managing clients something I wanted to do forever? Or at least for a long time? Was I truly fulfilling my career dreams? I had no idea. But when I needed it the most, the Ad Club was there for me. It offered me a chance to explore new territory and talk to people from all different walks of advertising and marketing life.
I was also given a tremendous support system to show me the ropes and teach me how to be an effective board member. My first year on the executive board put me in the company of Frank Conjerti, Katie Briggs, and Scott Bartels — secretary, vice president, and president of the board. And in my second year, I had the pleasure of working with Matt Low and Dan Nesselbush in addition to Scott (who is never leaving the Club). I couldn't have asked for better people to learn from, and over time, I grew to be good friends with all of them.
In fact, I grew to be friends with many of the folks I met through the Ad Club. Which brings me to the next part of my story.
—–
I don't think there is a single thing about the Club that changed me more than the people. Getting involved with the Ad Club gives you the opportunity to meet and connect with so many people that you wouldn't otherwise spend time with. Local celebrities, creative directors, agency owners, freelancers, photographers, designers, media planners, in-house marketers, CEOs, college students… again, you get out of it what you put into it.
As a young advertising executive, I absolutely ate this up. I talked to as many people as I could, but more importantly, I built relationships with the people I was lucky enough to call my colleagues. I sought out others who seemed to share my same sensibilities, and I quickly found people who transcended the work sphere of networking and business cards to become my real friends.
Spending as much time working with people as I spent with my fellow board members is a real exercise in team-building. You'd be hard-pressed to plan an event as big as the ADDYs and not share some good times with your colleagues along the way.
Being a part of the Club was more than just work for me; it was actually fun. Whether we were fiercely debating new events, packing hundreds of ADDYs entries into envelopes, or kicking field goals for Ad Week videos, I enjoyed every second of my time with the Club.
Here's me in front of a goofy sign, being a total dweeb:
[responsive]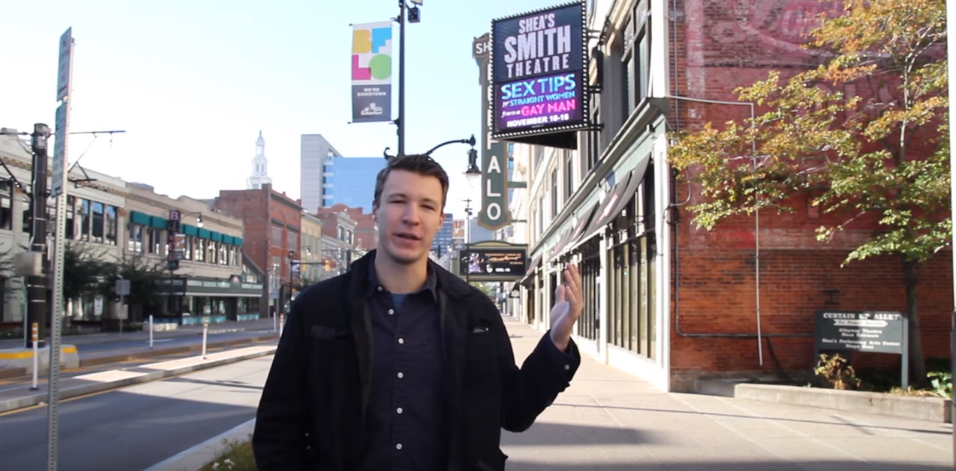 [/responsive]
If life is about the people you surround yourself with, then you won't be disappointed with what the Club has in store for you. There are some really great people out there, probably people just like you, and the only way you'll ever get to know them is by showing up and getting involved.
—–
So let's get back to me for a second. This is my story, after all.
By the time my second year on the board rolled around, I had already parted ways with Quinlan (ugh, what a millennial) in favor of a Digital Media Director position with the Mac Groups. In this new role, I was producing content, promoting websites, and directing strategy on an everyday basis. And I couldn't have gotten there without the Club. As I said earlier, the Ad Club was the place where I was able to hone these new skills and make myself a better, more employable worker.
The restlessness didn't go away though. I still spent my nights wondering if I was missing out on something more. And then a new opportunity presented itself. I was able to start a new agency, Blue Oak Marketing, where I would have full control of my own destiny and the ability to take on any project I wanted. It was the answer to all the sleepless nights I'd had, and it was something I'd always dreamed of doing but never thought I'd be ready for.
I say this with full, unwavering confidence: I never would have done any of that without the Ad Club. When I was most lost and looking for answers, I found solace in my colleagues at the Club. When I had new ideas that needed confirmation, I'd bring them to meetings with me and run them by other committee members. And when I knew what I wanted to do, but thought it just might be too crazy to achieve, I sought advice from some of my closest confidants on the board and found the confidence to take a risk.
So let's recap the ways the Ad Club has changed my life so far: it helped me build marketable job-related skills that led to a new position, it offered guidance at one of the rockiest times in my career, it gave me the confidence and support to follow my dreams and start a new agency, and it has introduced me to a handful of people that I now consider close friends.
That's not enough for you? Ok, let's talk about this next part then.
—–
In June of 2016, I left the Ad Club of Buffalo, and the city of Buffalo, maybe forever. Whoa. Chill for a second. Buffalo will always be my first home, and of course I'll be back to visit, but I don't know if I'll ever live there again.
Over the past year, I met a girl who lives in Raleigh, North Carolina, started one of these newfangled "long distance relationships," and fell in love. Awwwwwwwwww.
Actually, I didn't meet her this year. I've known her for many years. But we hadn't seen nor heard from each other in a very long time, and we just reconnected in September of 2015. And in another life, that might have been all that it was: a random reconnection between two friends from different cities, and nothing more.
But this isn't another life. While we were chatting, we discovered that both of us would be in Washington, DC at the exact same time only a couple weeks later. Her, for a wedding she was coordinating. And me, for the Ad Club. I was going to Washington with Scott to represent Buffalo at the annual AAF District 2 meeting, which is where leaders from other Ad Clubs in our region gather to share stories, learn from each other, and make our clubs better.
While I was there, I made some time to have dinner with Alexia, the girl whom I now love and share a 3-bedroom house with. Dinner turned into our first real date, and the rest is history. I live in Raleigh now, and, despite my love for Buffalo, moving here was the easiest tough decision I've ever had to make.
Here's a picture of us in Washington, being on a date like dweebs:
[responsive]
[/responsive]
So let's revisit that list of things the Ad Club gave to me and add "relationship" and "new home."
Ok, I'll concede that it took me a lot of hard work to get each of the things on the list, and I'm not going to pretend that a random Ad Club conference just handed me a great relationship and a new place to live. But in a weird, indirect kind of way, I don't know if I'd have those things if I hadn't gone to that conference. And I don't know if I'd have a great number of things in my life if I hadn't taken Frank's advice and responded to that email in February of 2014. So much in my life has changed since that day, and over the next 2 years, I'm sure plenty more changes will take shape. But there is one thing that I keep coming back to, and that thing is how important the Club has been as a part of my life.
—–
So now you've heard my story. Let's talk about yours. No matter how old you are, no matter what stage of your career you're in, and no matter what branch of advertising and marketing you work in, I can confidently say the Ad Club has something to offer you.
I can't argue with the fact that my path through the Club is probably an anomaly, but I have worked with a few dozen people on the board at some point over the past few years, and what I can tell you is that the ones who get value and reward out of the Club are the ones who come to the table with something to give. Whether it's time, passion, skill, or just an extra set of hands for someone in need, the Club will come back around and give something back to you. You'd be surprised how often that one guy who you helped with a project a few months ago ends up in a hiring position right when you need a job. Or how often you'll run into someone at an Ad Club event who is going through (or has gone through) the exact same career challenges you are. So let me give you a simple list of things you can do if you want the Ad Club to give you the same kinds of opportunities it gave me:
Show up. Go to events. Participate.
Talk to new people. It's tough but it's worth it.
If you can, apply to join the board at some point.
Give. You'll get just as much, if not more, back in return.
Be open-minded. Try new things. Hone new skills.
Say yes. A lot. Take every opportunity you're given.
Honestly, those are probably all good points to follow for any part of your life, but they're especially true of the Ad Club. I've already said it several times, but I'll say it again: you get back what you put into it.
—–
If you've read down this far and not fallen asleep by now, you're probably in this next group of people I'm about to mention, so stay with me for just one more second. The last thing I want to say is thank you. Thank you to everyone I've met along the way. Thank you to my fellow board members from the past few years. Thank you to Tina Pastwik, who does a lot of hard work for the Club and doesn't get nearly the recognition she deserves. And most of all, thank you to my colleagues from the 2 e-boards I was fortunate enough to serve on. To Frank Conjerti and Katie Briggs, thanks for all the support and encouragement throughout my first year. And to Matt Low, Dan Nesselbush and Scott Bartels, thanks for one hell of a last year to send me off.
Being a part of the Advertising Club of Buffalo was one of the most rewarding experiences of my life, and it's one I won't soon forget. I loved the 26 months I spent as treasurer, and I'll always love the Ad Club for making me a better worker and a better person. Here's one last picture to celebrate the ride. What a bunch of dweebs:
[responsive]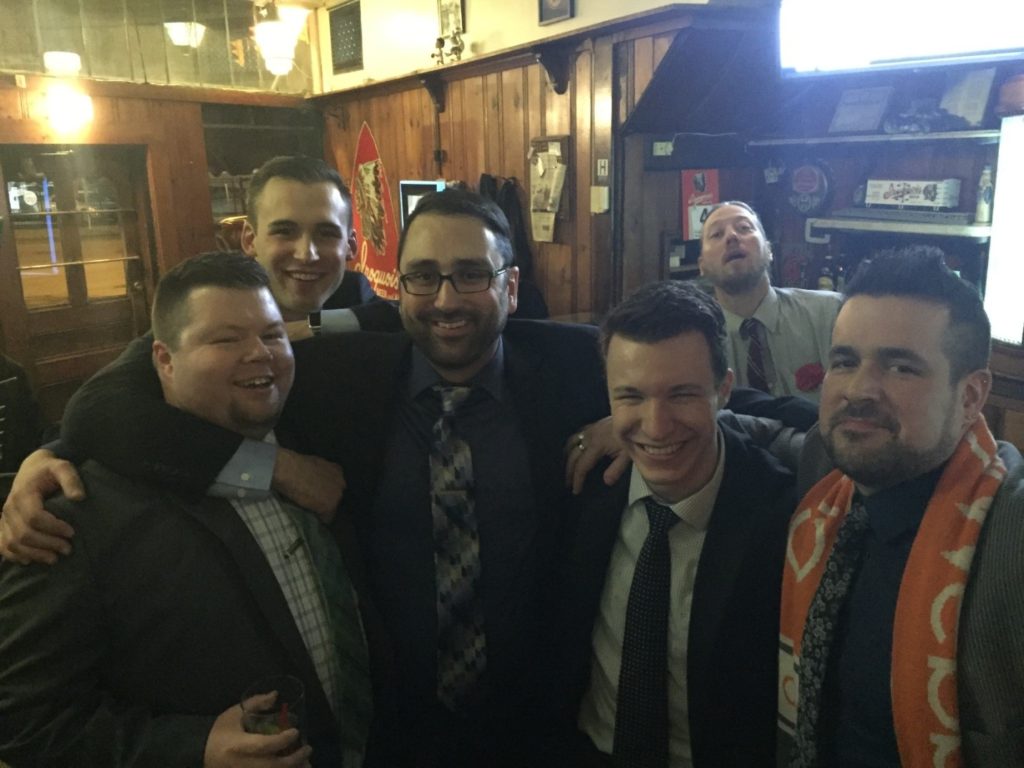 [/responsive]