RECAP: Portfolio Review 2023
AAF Buffalo was back in person at UB's Center for the Arts for its annual Portfolio Review event on April 29th from 10 AM – 1 PM. As always, students presented their best work to some of Buffalo's brightest advertising pros and got invaluable feedback to take their work to the next level.
This year, the club returned the event to its speed dating style, where students met with 15 pros in 15-minute 1-on-1 sessions for two and a half hours. Each participant presented their top 3 pieces, received feedback, and continued showing the rest of their portfolio. Pros from Crowley Webb, the Martin Group, Community Beer Works, White Bicycle, and more met with students this year and raved about students' ability to communicate their design decisions effectively.
Each year after students share their work with all the professional volunteers, the pros nominate two portfolio review scholarships for outstanding work, portfolio craftsmanship, and presentation skills. So please join us in congratulating the following students:
Portfolio Review Scholarship: Hannah Smith – LinkedIn
Portfolio Review Scholarship: Rachel Tranter
Honorable Mention: Julia Fay – juliafayonline.com – LinkedIn
The AAF board would like to thank all professional volunteers and give a major high five to all student participants. We can't wait for next year!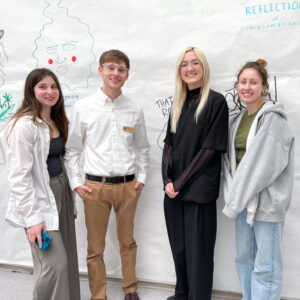 (Pictured Left to Right: Julia Fay, Noah Herman, Hannah Smith, Rachel Tranter)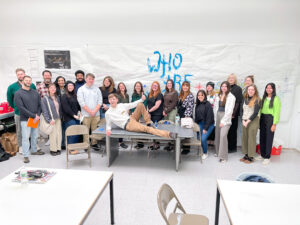 (Pictured: All student participants, professional volunteers, and resident buffoon Noah Herman)