Recap: Speed Networking, Ad Week Edition
Once upon a time, 90 percent of our events consisted of just showing up at a bar and chatting with people. Now, our events are focused around shared experiences, like industry speakers, skill-based lectures, and mentoring the next generation of advertisers. We love it, and based on those surveys we send you periodically, you seem to be on board too.
But we missed the freeform networking, and members from smaller companies started mentioning it's hard to network at some of our largest events of the year. To top it off, it was becoming commonplace to hear someone ask a friend at the agency across the street, "Know of any freelancers looking for projects right now?"
Based on all that, we set out to do something about it. Cue the creation of Speed Networking: Ad Week Edition.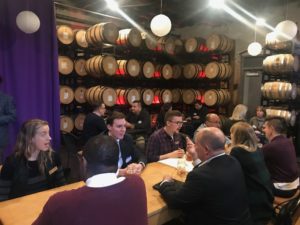 We had no clue if it would work. Networking is a love-hate relationship for a lot of people. But we knew the need was there, so we decided to give it a shot. If it flopped, then at least we could show up to the Member Appreciation party and say we tried. If it worked, well, that's why there's a colon built into the naming structure already.
On Wednesday, October 17th, 20 people showed up to Buffalo Distilling Co. down in Larkinville, grabbed a drink, and awkwardly sat down at tables across from one another. One hour and ten rounds of self-imposed networking later, attendees lingered at the bar to continue conversations and discuss projects more in-depth.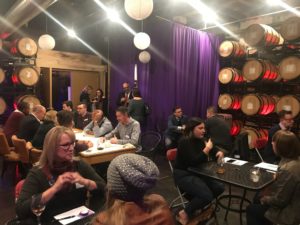 On paper, it looked like a success. Ten companies, including six agencies, sent familiar faces (at least to anyone who has interviewed in the local ad scene lately). And ten freelancers with skill sets ranging from copywriting to videography to media education brought their A-game and elevator pitches. No one quit halfway and dozens of business cards were passed across tables.
The real proof came a few days later, when emails and text messages started trickling in from participants on both sides, thanking us for hosting the event. Real business connections were made that night, and actual working relationships had begun as a result.
Keep an eye out for more Speed Networking events in the future. If you want to see a different match-up, (perhaps companies and agencies looking for students interested in internships) let us know.