Many thanks to the pro volunteers and students who participated in AAF Buffalo's first attempt at an online Portfolio Review Day for area creative students. As the leading advertising professional organization in WNY, it is part of our mission to support future creatives, especially during an uncertain time. We put our heads together after COVID-19 forced us to cancel the physical Portfolio Review. After some planning, the day ended up being a success thanks to pro volunteers and Zoom Breakout Rooms. Students who registered in advance participated in several twenty minute interviews, where they had the opportunity to chat, ask questions, and share their work. Many colleges and universities were represented including Rochester Institute of Technology, University at Buffalo, St. Bonaventure, Villa Maria College, Daemen College, and Buffalo State College.
In order to offer opportunity to win an award to a wider range of students during such an uncertain time, we decided to give each Breakout Room one vote towards a standout student portfolio of their choice to receive a cash prize. Several students were awarded more than one vote. Congratulations to students who won kudos from the professional volunteers:
Crista Sukennik, Communication Design, Buffalo State College
Junyan Chen, Studio Art with Graphic Design Concentration, University at Buffalo
Lindsay Neilson, Graphic Design, Villa Maria College
Deztinhy Di Meo, Graphic Design, RIT
Maggie Blaisdell, Graphic Design, RIT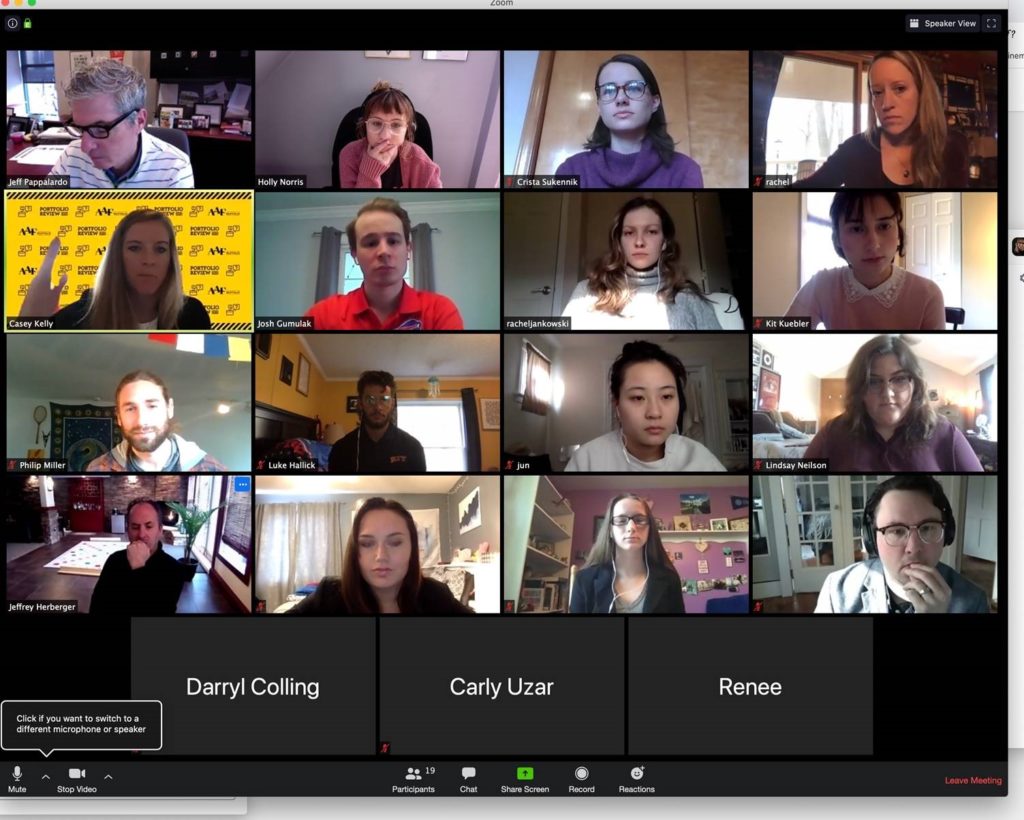 We look forward to hosting this important event for years to come, and will continue to grow and evolve it in an effort to best serve future creative professionals with an effort to make it fun and beneficial for pros as well. We truly appreciate the time, professionalism, and dedication of the pros and students who were involved with this event. See ya in 2021!