Last night, we hosted a panel event at Shea's Smith Theatre comprised of some of the top names in the Buffalo advertising industry.
The panel included:
Jim Hettich, CEO, Crowley Webb
Zach Schneider, partner, Fifteen
Patrick Finan, co-founder and principal, Block Club
Carolyn Human, Carolyn Human Communications
Bill Patterson, VP/executive creative director, Gelia
Christine Dougherty, senior vice president and managing director, Mower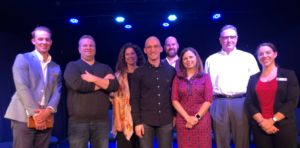 The panel answered audience questions on a wide range of questions.
On the RFP process
Many on the panel agreed on being picky when responding to RFPs, not just to manage staff time, but also to be realistic about what a future with that client would look like.
On retaining talent
Each panelist discussed maintaining a work/life balance for employees to increase happiness. They each prioritized transparency throughout the agency, to further empower employees. Some ideas like flexible scheduling, dogs in the office, and even an abroad residency program were discussed.
On making mistakes
Misspellllllings, tpyos, and human resource mistakes colored the past of each participant. The main emphasis was to learn from mistakes. Advertising and creative endeavors are inherently risky. Mistakes happen. Though inevitable, the key is to not repeat mistakes.
Ad Week isn't over! We've got more events, including our Spotlight Speaker Series on Thursday.