Congratulations to the 2018 Don Nichols Scholarship winners!
For this year's competition, students were asked to submit work related to the theme of racial inequality. Although we are half a century past the civil rights movement, our nation's news is still filled with cases of racial imbalance.
Submissions could represent the creator's take on this situation, as well as their thoughts, beliefs, and opinions on what can be done to help. Students were given creative license to submit their entry as an advertisement, booklet, essay, poem, illustration, multi-media piece, photograph, or virtually anything they could imagine.
The scholarship competition was open to all Western New York undergraduates in design, writing, communications, illustration, photography, and fine arts. Entries were judged by a panel of professionals from Crowley Webb. And the results are in.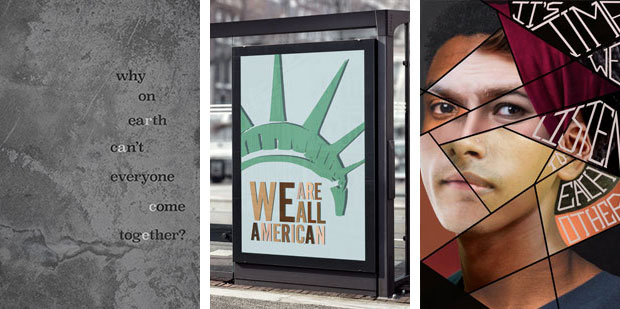 Congratulations to this year's winners:
$1,000 First Prize: Travis Springer – Villa Maria College
$500 Second Prize: Wendie Scherer – Villa Maria College
$300 Third Prize: Francesca Bubb – Villa Maria College
Honorable Mention: Malika Kodiak – University at Buffalo
About the Don Nichols Scholarship
Don Nichols began teaching at the Albright Art School. He founded its Graphic Design Program in 1950 and brought it to the University at Buffalo where, until his death on July 7, 1987, he served as the program's head and an extraordinarily dedicated teacher. He educated hundreds of graphic designers, a number of whom attained national prominence. Nichols received the Osborn Award for Creative Excellence from the Art Directors/ Communicators of Buffalo and the Chancellor's Award for Teaching from UB in 1982.