This past Tuesday, FARM hosted our second Skillshop of the season. Adam "Beav" Bauer led us through a 101 course on user experience (UX) and user interface (UI). He shared advice, tips, tricks, and predictions with 17 eager student from several of Buffalo's finest companies and agencies.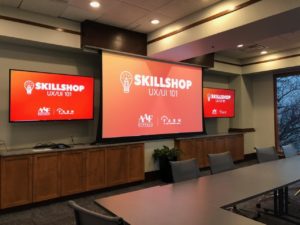 In case you weren't one of the lucky ones in the audience, here's what you missed.
UX vs. UI
Beav started out by helping us realize the differences and interplay between UX and UI. Ideally, you'd want someone dedicated to the visual design, layouts, and typography of UX while another brain concerns itself with the journey mapping, wireframes, and user searches of UI. But not every company has that luxury. So how do you manage both sides of the digital experience to promote good experiences and prevent bad ones? Start by solving problems.
Journey Mapping
To uncover these problems, Beav stressed the importance of journey mapping — thinking about the people, tasks, questions, touchpoints, emotions, and weaknesses — during the discovery phase. It's a valuable opportunity to reveal significant gaps in the way your client's business and/or online presence is performing, as well as reveal low-hanging fruit your clients haven't seen before.
Data Gathering & Interpretation
Dig into the data and implement what you learned in the Google Analytics Skillshop. As you pull out insights, Beav advised you evaluate the site map, change hierarchies, and use the results to design with purpose.
User Interface
Once you've identified your direction, Beav led us through how to develop solid wireframes, including layout elements, suggested pieces, and a logical hierarchy. Every client's online presence presents unique challenges, so Beav guided us through how to tackle them using strategic design.
Frameworks
Even if your style is design for desktop first, Beav reminded us to always think mobile. HIs top tools for responsive and adaptive frameworks? He recommends Bootstrap, Foundation, Skeleton, and Gumby.
Testing
Make sure your website works for everyone involved: the CEO, e-commerce, the developer, the customer, and marketing. Beav urged us to test. Test, test, and then test again. As many times as it takes, A/B test everything. By thoroughly reviewing your website, you'll be able to refine it to get the best results for your client.
Looking Forward
Where is the digital user experience going from here? Off screen. With the growing prominence of personal assistants like Siri and Google Home, Beav dropped this knowledge bomb on us: 30% of digital marketing will not be on a screen by 2020. Be prepared for that evolution.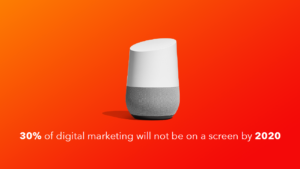 Whether you're contributing to the research, messaging, design, or development of your client's digital presence, keep in mind these UX/UI tips and best practices for a website your clients and their customers will love.
By Lauren Carmer