When Adidas Hockey was tasked with designing the Buffalo Sabres most recent Winter Classic jersey, they did market research. They studied trends, demographics, competitors, and history. But their most valuable tool was Eric Bodamer, their Buffalo-born senior designer. Bodamer brought something different to the table. He was from Buffalo. His family, friends, and neighbors growing up were his research. He knew Buffalo, inherently.
"For a kid from North Tonawanda, it was a dream come true," says Bodamer.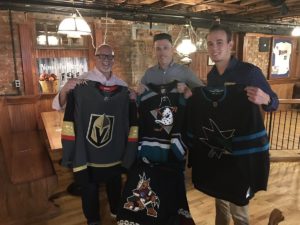 During our 2018 Ad Week in October, Bodamer came back home to Buffalo to speak to our membership and guests, a crowd of close to 60 at Pearl Street Grill & Brewery. As Bodamer relived his childhood throughout his hour-long talk, he paid tribute to his blue-collar and gritty roots with love, often praising our city and its people for contributing to his own creative process.
He provided our audience with exquisite detail into the creation and stories that went into developing the Sabres' 2018 Winter Classic jersey that they wore New Year's Day at Citi Field. He explained the extensive and intricate pitch process. Most of all, he was explicit in expressing that it went against his wishes to include "NY" within our Sabres' crest for the game.
Before heading back to the west coast, Bodamer let us in on the Vegas Golden Knights team branding that he was a part of prior to the 2017-2018 NHL season. From sitting with the Knights owners to dozens of naming concepts and selecting just the right color palette, he led us through the process from start to finish.
On behalf of all true-blue Buffalonians, we thank Eric for showing his Queen City love and never forgetting where he got his start. As Adidas continues to expand their footprint throughout the NHL, we guarantee you'll see Eric's influence through it all.