On Saturday, April 13, students and advertising professionals gathered at Villa Maria College for the 2019 Portfolio Review. As Part II of the AAF Buffalo Portfolio Series, this event focused on putting what students learned from Part I, the Portfolio Seminar, into practice.
Senior, junior, and sophomore students from Villa Maria College, Fredonia, Buffalo State College, and Daemen College brought their portfolios to Buffalo area pros for critique and conversation in a speed-networking format.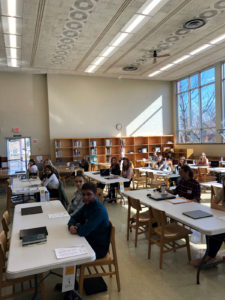 This event style gave students the opportunity to discuss their work and hear valuable feedback from a mix of creative directors, art directors, writers, and freelancers. In turn, the pros offered guidance on how students could improve their portfolio and answered any questions from students about getting a job following graduation.
In addition to useful feedback, Portfolio Review gives students a chance to practice their interviewing skills and meet with a wide network of agencies and companies around town to get their name out there and inquire about internships or future opportunities.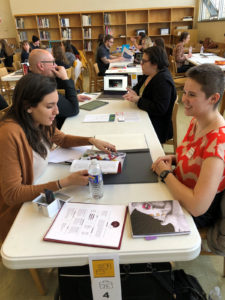 Students presented their work from 10 a.m. to 2 p.m. with a break for lunch. At the end of the review, we asked our professionals to vote on the best portfolio, in their expert opinion, and on who would be the most deserving recipients of our three scholarships.
The Winners
Congratulations to these three students, who not only took home professional validation, but also an AAF Buffalo scholarship:
1st Place: Andrea LoPiccolo – Buffalo State College
2nd Place: Philip Miller – Buffalo State College
3rd Place: Lindsay Neilson – Villa Maria College
And a special thank you to our professionals who gave up their Saturday morning for us.